If one thing's for certain, it's that Crash has had a rocky career as a video game mascot. Despite reaching his peak in 1998 and going into hiatus for seven years in 2010, the power of nostalgia has somehow managed to keep the Bandicoot alive way beyond his natural lifespan. That being said, Crash Bandicoot 4: It's About Time is more than just a trip down memory lane – it's a testament to the relevance of the platforming genre as a whole. 
Just like the title suggests, Crash 4 is a sequel – and a long-awaited one at that. While this might seem purely symbolic, Toys For Bob have managed to create a game that brings something substantially new to the table which, in turn, provides a justification for retconning anything beyond the original trilogy. That's right, Crash 4 takes place directly after Crash Bandicoot 3: Warped, meaning that Crunch Bandicoot has been thankfully relegated to the status of cameo… for now.
The plot at play in Crash Bandicoot 4 sees Crash and his sister Coco set off in search of four Quantum Masks, after the series' cast of academic villains, Dr Neo Cortex and co, manage to escape interdimensional captivity by ripping a hole through space and time – the Doctor Who equivalent of digging through concrete using a spoon. This narrative framework does a great job of placing the characters and settings into a perfect Saturday morning cartoon framework, which helps the game mechanically and aesthetically excel in a familiar yet unique way.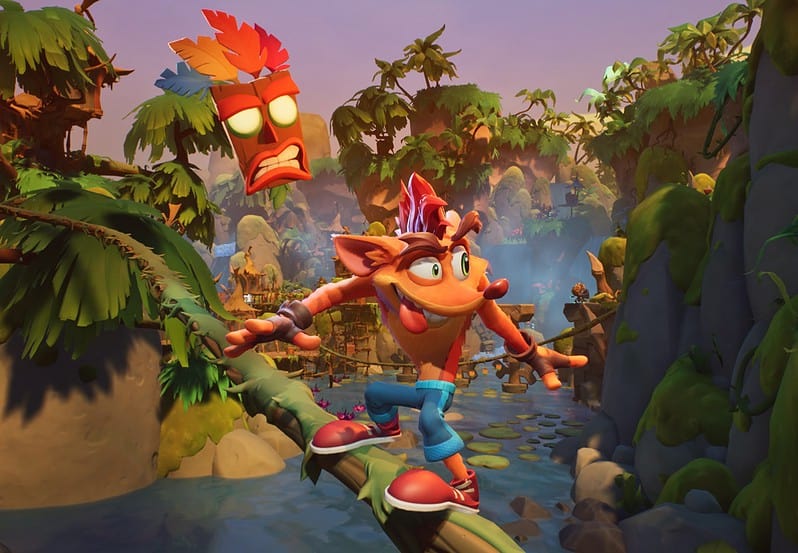 Crash Bandicoot 4 is undeniably pleasing to look at, with Toys For Bob providing further reassurance that they know what they're doing when it comes to classic character recreation, despite previously turning Spyro into a cretinous Skylanders abomination. Each character feels true to their original design, yet modernised enough to avoid feeling like polygonal relics of the past. If you're like me, however, then you might find yourself rummaging through the games various skins for the one that makes Crash look more like his original, yet unsightly to look at, self and less like something from a Don Bluth film.
If playing as the game's titular character isn't your jam, then you can now play the entirety of the game as Coco, instead of being limited to her specific stages like in Crash 3. Through doing this, however, it feels like Coco is no different from an alternative skin since she is mechanically identical to Crash. In contrast to this, you can also play specific levels as other characters such as Tawna, Dingodile and N.Cortex, all of which have their own unique set of abilities, which serve to completely change up the gameplay.
Each area of Crash Bandicoot 4 is also drenched in colour and fits well into the overall cartoony vibe. As is to be expected, each location is based on a theme, much like Crash 3, with the usual tropes of a time-travelling adventure at play. Strangely, it's in the game's visual world design that things feel somewhat departed from the artistic language of previous games, with some levels feeling closer to the aesthetic of the likes of Rayman, or even a classic Rare platformer. While it's not clear if this is deliberate, it did hamper some of the nostalgia during gameplay.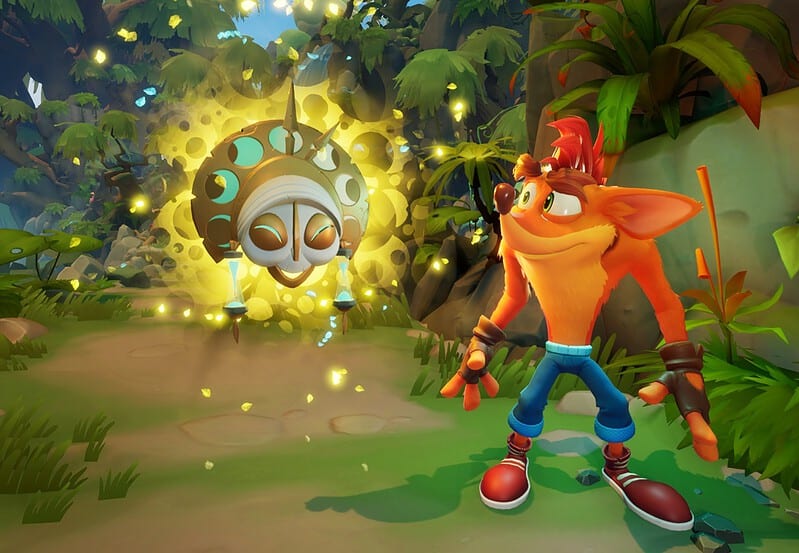 When it comes to Crash 4's level design, not much has changed in terms of structure. Players are primarily expected to move forward through a linear path, stomp on boxes, collect wompa fruit, avoid explosives and reach the end of the stage where you'll be taunted for failing to do all of the aforementioned. Completionists will find themselves being rewarded with unlockables such as skins for managing to hit all of a stage's objectives, which is something the series has previously relied on for replayability. Each level also features alternative modes of play, such as a trippy 'N-verted mode' and time trials, which are all mandatory for 100% completion.
Unfortunately, Crash 4's collect-a-thon ecosystem feels less cathartic and more frustrating than previous outings. For one, each stage has six gems that can be earned by performing tasks within the stage, with no consolation prizes being granted for simply completing the level. Instead, the game expects you to painstakingly collect an absurd amount of boxes and wompa fruit, all while trying to perish less than three times while ensuring to seek out the 'hidden' gem within each stage. Sounds exhausting? Well actually, you'll have to do it all twice once you unlock the alternative N-verted mode on each stage. 
Just like Crash himself, this new adventure is an experiment. Each new mechanic that has been weaved into this classic corridor structure fundamentally shakes up the gameplay. From rail-grinding to free-running across specifically angled walls, Crash feels less like a rat in a maze and more like a… mutated Bandicoot.  Each level now also feels more expansive, with more explorative space horizontally as well as a decent sense of verticality. While this is to be expected, especially since Toys For Bob aren't constricted to the potato power of an original PlayStation, it's definitely well implemented. 
The addition of the Quantum Masks assisting Crash during his interdimensional escapade might feel gimmicky, yet manage to justify themselves through their implementation. From phasing platforms in and out of reality to assuming the form of a Beyblade, navigating across Crash 4's themed environments extends far beyond merely landing on two feet – which is a required departure from the core gameplay of its predecessors. These mechanics are far from being genre-defining, yet help Crash 4 borrow some much-needed inspiration from other greats of the platforming genre.
For all the fun that can be had with Crash 4's unique mechanics, they often can feel slightly untuned, which in turn adds to the frustration of progression. Mechanics like the dark matter spin feel floaty, which is worsened by the fact that most of the gameplay surrounding the ability involves performing huge leaps to narrow platforms while using it. Rail-grinding and running along walls can also feel finicky, with both suffering from feeling slightly jittery at times. 
One of the most off-putting aspects to Crash 4's design is the overwhelming feeling of forced difficulty. While the game has lots of praise in terms of its gameplay, it's hard to shake that feeling the developers want you to struggle, almost as if to simulate some sort of '90s difficulty. In reality, it feels like Crash 4 gets off on catching you off guard and watching you stumbling into unreasonable fatalities. A classic sense of difficulty is of course great when it feels like you've grown as a player, less so when it feels like you're deliberately set up to fail.
In spite of its flaws, Crash Bandicoot 4: It's About Time is worthy of being a true sequel to the original trilogy. Toys For Bob have managed to build an experience that is true to the series' roots, while willing to diversity itself in order to modernise its mechanics and gameplay. If the game's difficulty felt less forced, the overall experience within Crash 4 would be more enjoyable than its predecessors. That being said, Crash 4 proves that there's a place in the market for classic platforming experiences beyond a need to simply fulfil nostalgia, meaning that hopefully, we can come to expect new IP's and sequels to classics being released during the next generation. Personally, I just want to see a rom-com adventure starring Tawna and Dingodile.