Microsoft's Bing engine has evolved from a simple Google competitor engine to a recommendation and predictive engine. Powering Cortana on Windows platforms (though only Windows Phone at the moment), the Bing predictive engine has predicted the World cup, Superbowl and US elections. Now it has expanded to incorporate predictions for the UK premier league and most recently the ICC Cricket World Cup 2015. The Cricket functionality doesn't seem to work in Cortana as of yet but it works on Bing (Both US and UK versions). Rather than simply showing a winner or loser, this time an answer is given based on percentages so we know the odds of the teams we may (or may not) support. For instance, typing out India vs Pakistan into Bing will give the following result:
Not just that, but searching ICC Cricket World cup 2015 yields this page where you can view fixtures, take part in quizzes and more.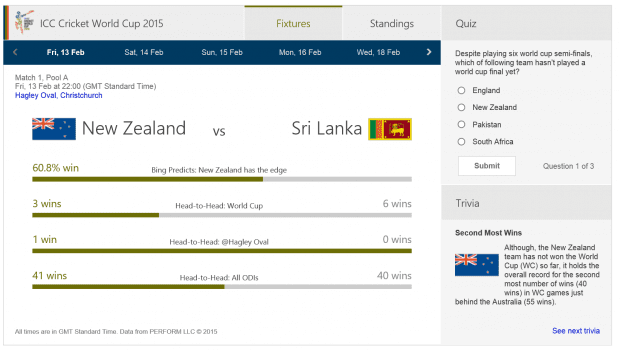 Any New Zealanders or Sri Lankans in our audience? Let us know what you think in the comments! Thanks for the tip aspalt !