If you're still using Windows 7, saving system resources as much as possible is extremely important, hence why choosing the best browser for Windows 7 can have a considerable impact.
If that's the case, then look no further! This comprehensive guide delves into all aspects of the browsers and their impact on your Windows 7 system, and our team of expert testers used benchmarks to measure the actual browsing speeds.
Whether you're a casual internet explorer or a dedicated researcher, we've got you covered with these browser options. We chose to test the speed of the browsers in this list using the Speedometer 2.0 benchmark.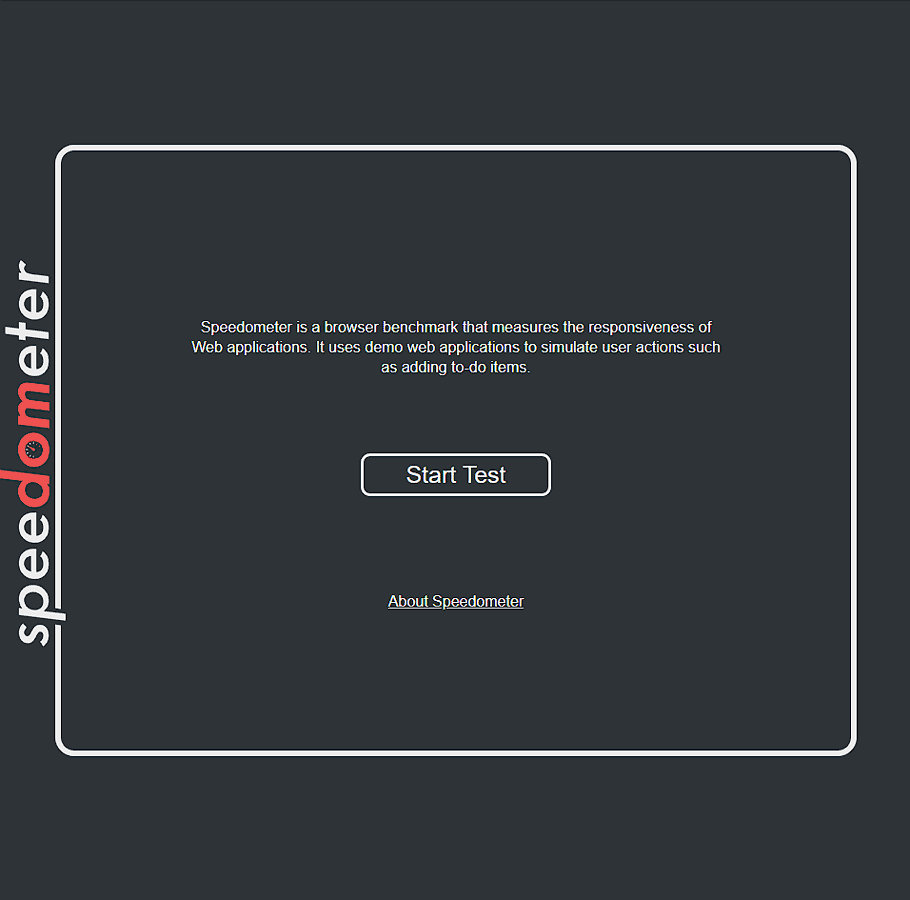 Each of the browsers was tested under the same conditions to ensure the validity of the benchmark results:
Below you can see the results of our benchmark tests and some extra information about the respective browsers. Regarding the speed section, the higher the number, the better the browsing speed.
To dive even deeper into this information, explore the descriptions for each software by scrolling down on the page.
Comparison Table
| Browser | Browsing Speed | Security Features | User Interface | Extensions and Add-ons | Resource Consumption |
| --- | --- | --- | --- | --- | --- |
| Opera One | 216 Runs/Min | Built-in VPN, ad-blocker | Sleek and intuitive | Moderate variety | Lightweight |
| Mozilla Firefox | 151 Runs/Min | Tracker prevention, strong privacy | Flexible, active user community | Wide range | Resource-intensive |
| Microsoft Edge | 213 Runs/Min | Windows Defender, Reading mode | Minimalist design | Moderate variety | Efficient |
| Vivaldi | 196 Runs/Min | Standard security, customizable | Sleek design, tailored features | Moderate variety | Moderate |
| Midori | 149 Runs/Min | Basic privacy, minimal data collection | Simple and straightforward | Limited variety | Very lightweight |
| Google Chrome | 165 Runs/Min | Sandboxing, automatic updates | Minimalist design | Wide range | Moderate |
Now that we have covered these browser options' overall features, we can dive into the details for each. Read on for more helpful information.
1. Opera One – Best browser for Windows 7 overall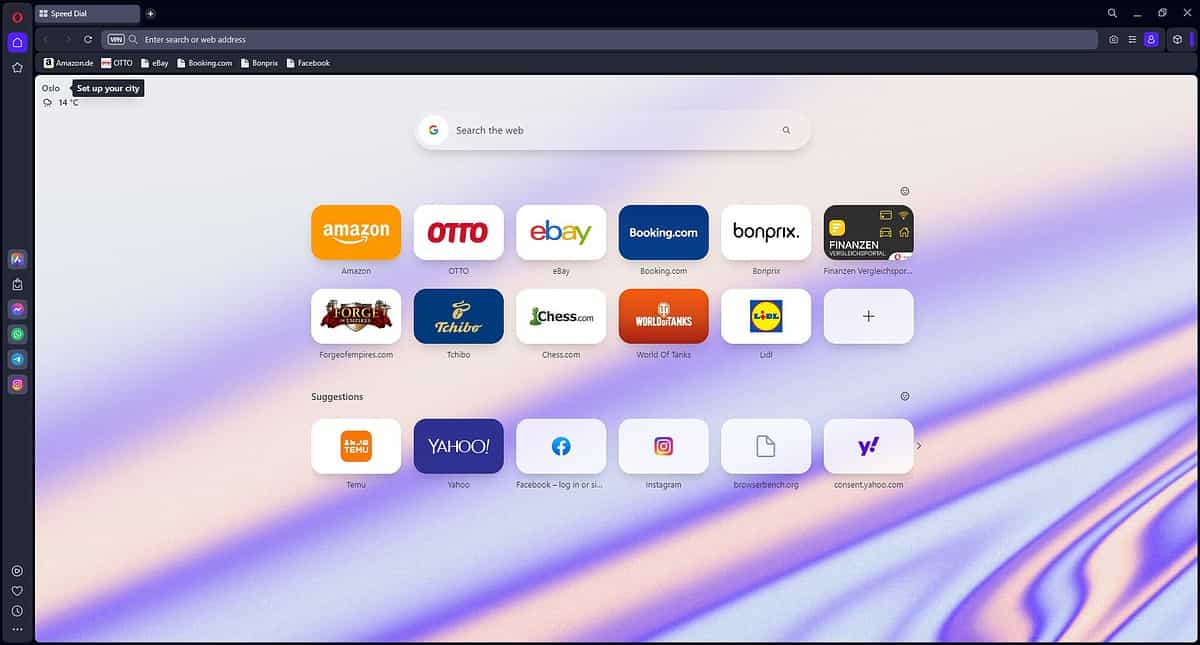 Opera One is the new browser from Opera, designed to be lightweight and energy-saving, making it the perfect browser for Windows 7 systems.
During our benchmark tests, Opera One has proven that it is the fastest browser for Windows 7, capable of processing 216 task Runs/Min. This makes it even faster than Microsoft Edge, our next contender.
Opera One has a plethora of features like a VPN, ad-blocker, and enhanced privacy features, which don't affect the browsing speed in any way.
Pros
Energy-efficient browsing
Powerful built-in VPN service
Ad-blocker enhances loading times
Easy-to-use interface
Regular updates are released
Cons
The extensions library is limited compared to other browsers
2. Microsoft Edge – Seamless Windows Defender integration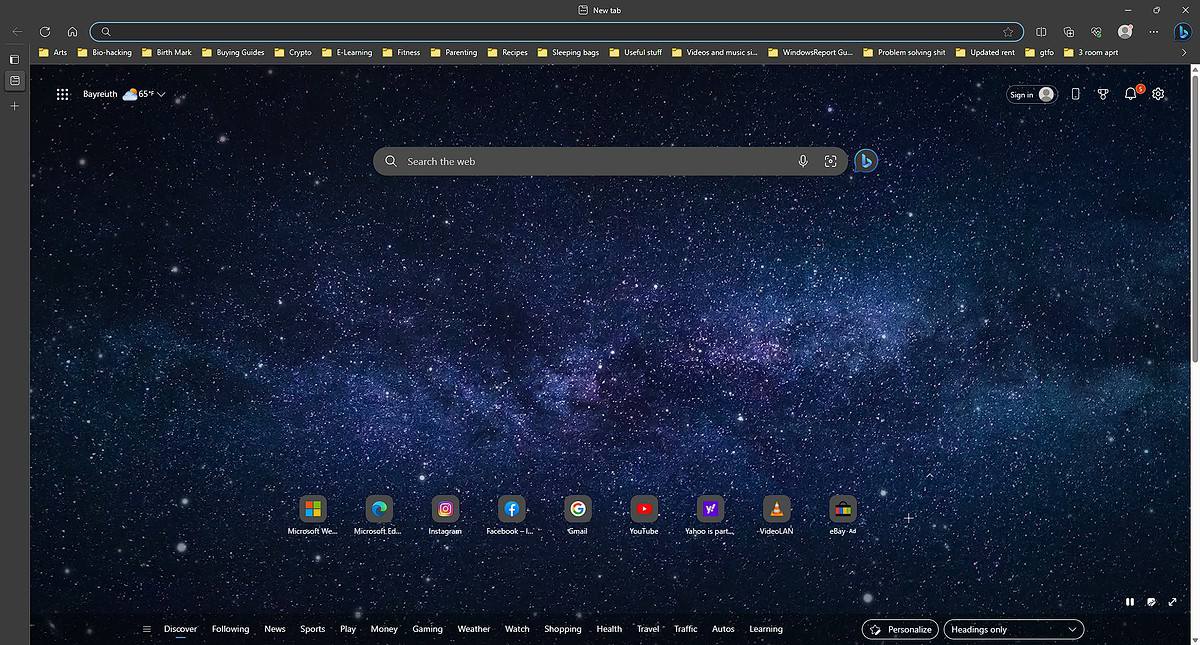 Microsoft Edge is the second fastest browser for Windows 7, scoring 213 runs/minute on our benchmark tests. Even though Edge was usually at the top of lists when it came to speed, it has been dethroned by the Opera One browser.
That being said, Edge still provides users with a very stable and fast browsing experience, and the integration with Windows Defender gives it an edge regarding security.
Pros
Low impact on system resources
Integrates with Windows Defender
The reading mode feature helps reduce eye strain
User-friendly interface
Cons
The level of customization is limited compared to other options
3. Vivaldi – Tailored browser experience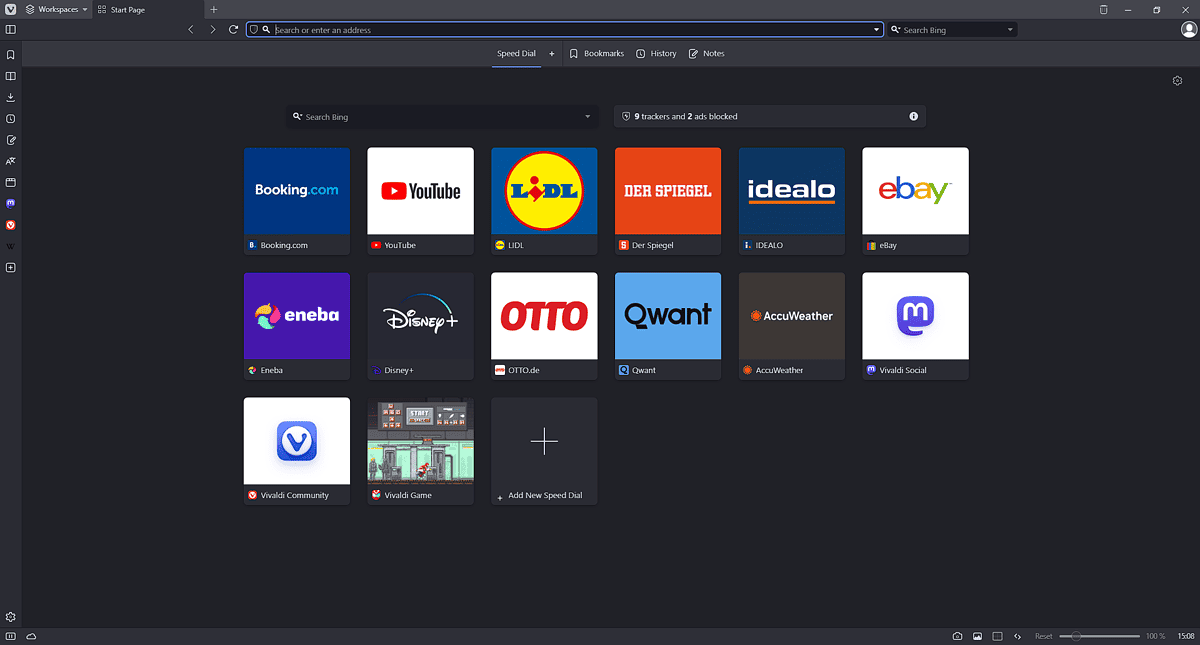 Vivaldi is the last contender to reach the browser podium, with a benchmark score of 196 task runs/minute, which is also a great result. This browser was built with user customization in mind and delivered on that promise.
The browser uses innovative ideas like tab grouping and note-taking, making it stand out while ensuring fast page loading.
Pros
Great customization options
Improves multitasking with the tab grouping feature
A note-taking option is integrated into the browser
Excellent design with easily-accessible options
Cons
The number of features could be overwhelming for beginners
It could require a learning process before using advanced features
4. Google Chrome – Efficient and versatile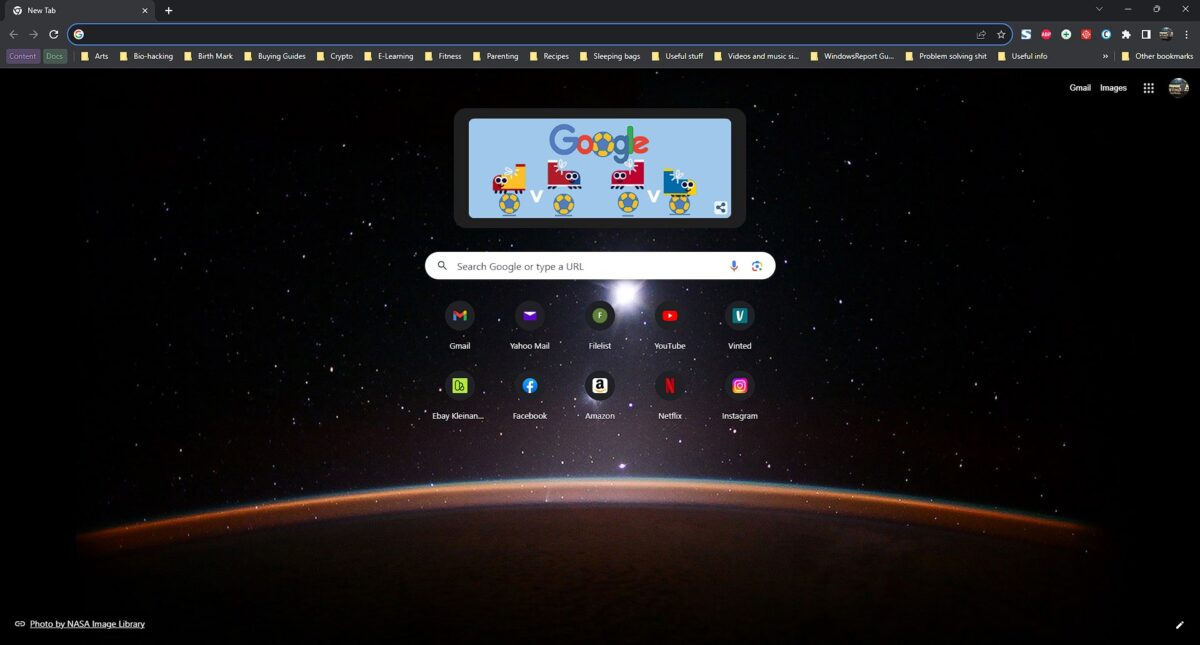 Google Chrome is one of the most popular browsers on the market and for good reason. This powerful app has incredible page-loading speeds and a fantastic number of extensions available and ensures cross-platform syncing, including all Google-related accounts.
Regarding the browser's speed on a Windows 7 PC, Chrome takes 4th place in our list, scoring 165 task runs/minute. This doesn't mean the browser is unusable, but if your aim is browsing speed, then going with one of the podium options will help.
Pros
Good page-loading speeds
Regular updates are provided
A large number of extensions in the Chrome Web Store
Cross-platform syncing for bookmarks and passwords
Cons
It has the potential to impact your Windows 7 performance negatively
5. Mozilla Firefox – Great customization and privacy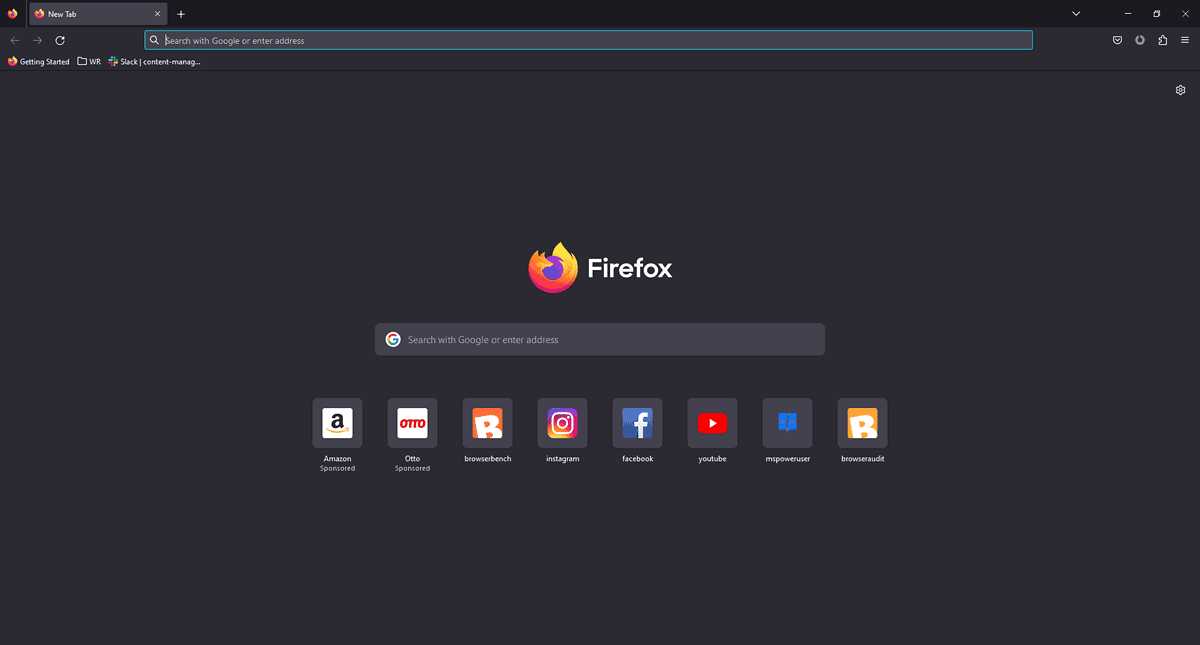 Firefox is another excellent browser option for Windows 7, and it is well-known as the open-source champion. That said, Firefox scored 151 runs/minute during our benchmark speed test, making it the 5th browser in the list.
Even though its speed is lower than that of Chrome, Firefox has a lower impact on system resources, thus, making it better for Windows 7 devices.
Pros
Great customization features
Enhanced privacy features, including tracker prevention
A large number of extensions that can extend the functionality
Fully compatible with the requirements of Windows 7
Cons
It can be resource-intensive when compared to lightweight browsers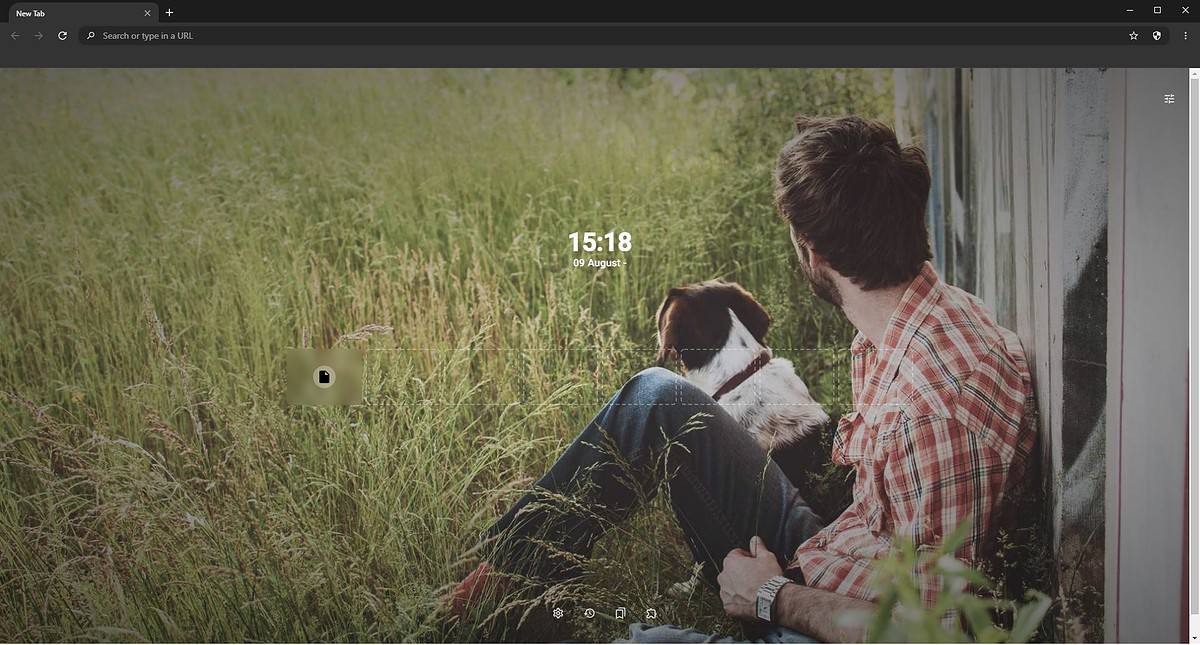 Midori is a very lightweight browser alternative for Windows 7 users keen on saving as many system resources as possible, ensuring decent speeds.
Even though it scored just 149 runs/minute in our benchmark test, the balance between the impact on system resources makes this value acceptable and recommended for lower-end PCs.
Pros
Extremely lightweight, perfect for Windows 7
Decent page-loading speeds
Minimal data collection
Simple interface
Cons
The advanced features included are limited when compared to other browsers
Smaller user-base which may imply slower updates
---
Choosing the right browser for your Windows 7 device requires us to look at a few specific factors, including speed, security, customization, and compatibility.
Opera One is the clear leader in the speed department while offering a stable, secure, and private browsing experience. Edge is in the second position and offers versatile integration with your built-in security system, and Vivaldi offers a great set of customization features with incredible browsing speeds.
Feel free to share your browser choice with us by using the comment section below.