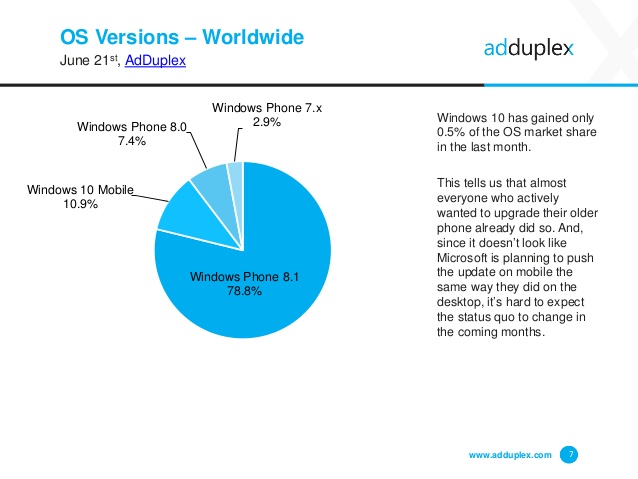 AdDuplex has released some more data on the Windows phone and Windows 10 market as recorded on the 21st June 2016 by their cross-promotional app network.
As can be seen in the graphic above, Windows 10 Mobile appears to have stalled at 10.9%, adding only 0.5% over the last month, despite some carrier upgrades going out. Nearly 80% of users are using Windows phone 8.1, and it looks like this population will be with us for some time.
When looking at only the Windows 10 Mobile market it is clear Microsoft's new generation of Windows 10 Mobile handsets (the Lumia 550, 950 and 950 XL) have been a commercial failure, making up only 20.9%of the small Windows 10 Mobile market, and therefore around 2.3% of the total Windows Phone market. This either means AdDuplex's data does not correlate well with the market, or many Windows 10 Mobile handsets sold by Microsoft are no longer in use.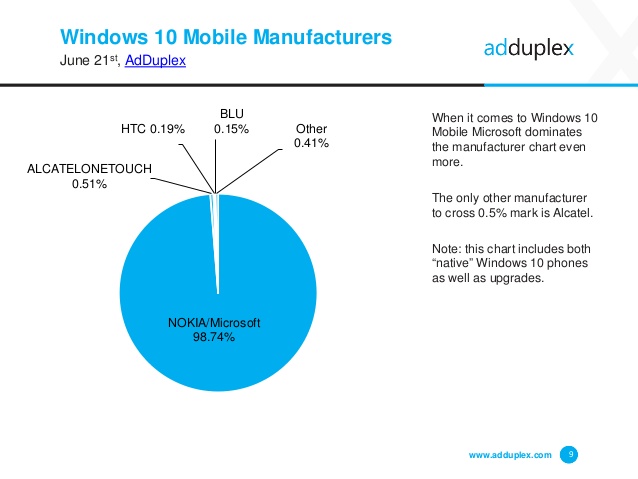 Unfortunately Microsoft's OEMs are not taking over, with 3rd party OEMs selling little more than 1% of Windows 10 Mobile handsets in use. Interestingly Alcatel at 0.51% is the most vigorous, likely due to its sales on T-Mobile USA.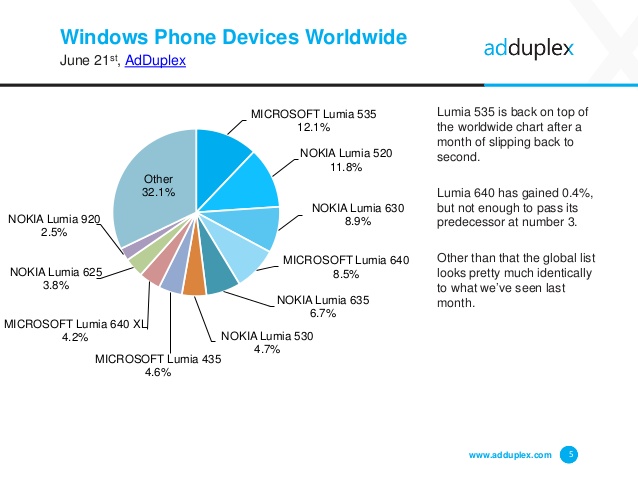 Looking at the bigger picture then, it seems there are more 4-year-old Lumia 920 in  use than all of the Lumia X50 handsets combined. It seems Windows Phone users are very inclined to hang on to their phones, even in the face of the app gap and Microsoft itself having moved on to a new OS.
AdDuplex also looked at the use of Windows 10 apps in the PC market.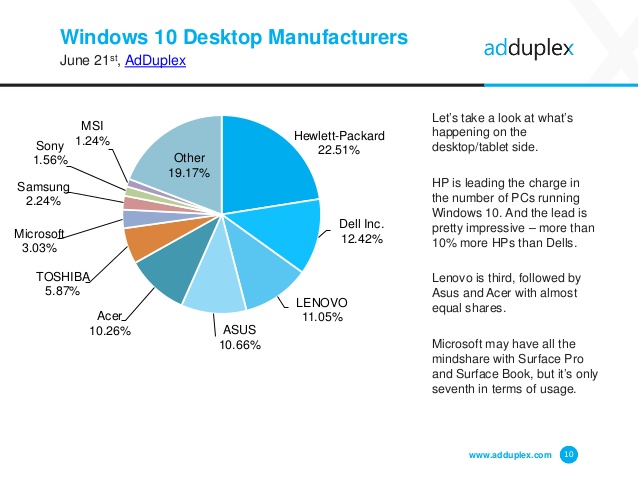 There the situation is very much reversed, with Microsoft seventh at 3.03% of the Windows 10 market, and HP well in the lead. Given that Lenovo is leading the PC market it seems HP has the recipe to get their owners using the Windows Store.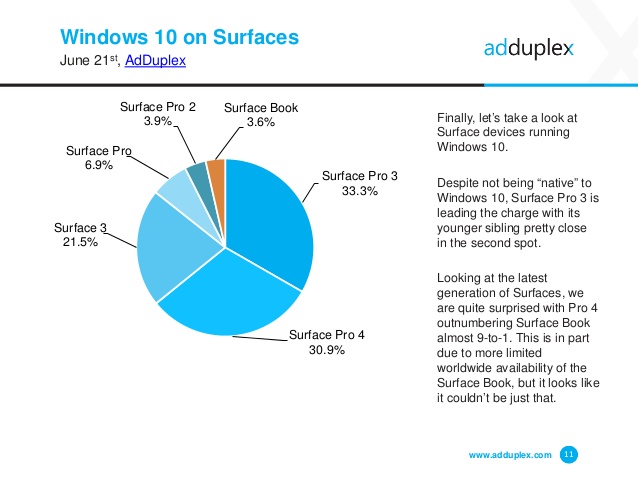 When looking at the Surface market specifically, it appears the Surface Pro 4 is selling just as well as the Surface Pro 3, which should be good news for Microsoft. The Surface Book comes it at only 3.6% of the Surface market, likely due to a combination of its high price and keyboard, which means users are likely mainly using desktop vs Windows Store apps.
What do our readers think of the small slice of the market the Lumia X50 range managed to occupy? Let us know below.