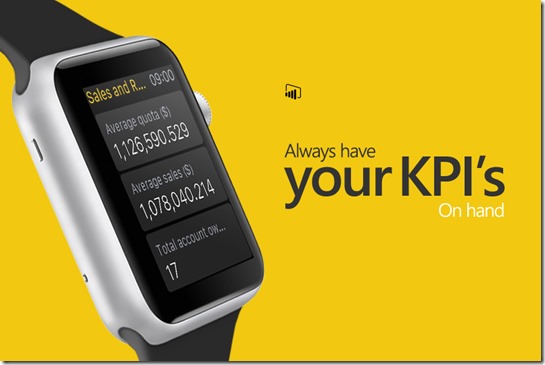 Microsoft today released their Power BI app for Apple Watch. It supports both KPI and card tiles to provide you with a heartbeat measure of your business.
When you open the Power BI app for Apple Watch, you will see an Index screen with a quick overview of all applicable tiles from the synced dashboard. Keep a close eye on your most important metrics. You can drill into a specific tile by tapping on it to get more data.
The Power BI app for Apple Watch also supports displaying a tile directly on the watch face so it is visible and accessible at all times. This display will stay up to date, and will update shortly after your Power BI datasets are scheduled to update. You'll always have the latest information at your fingertips!
Other improvements available in this update are listed below.
•Added the ability to center map tiles to your current location when in focus mode.

•Added custom link tiles that can send the user to any URL. Links to different dashboards and reports will open within the app, while links to external URLs will open in a browser.

•Improved Power BI Mobile support to offer additional self-service options for users.

•Updated SQL Server 2016 integration to use SSRS folder navigation and support quick access to favorite mobile reports and KPIs.
Update the iOS app here from App Store.