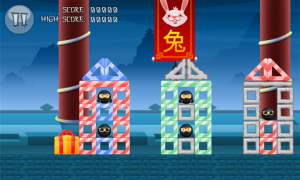 This is a FREE holiday-themed Angry Birds equivalent!
Overall Score: 2/5
While the gameplay is decently fun, the various issues with crashing, short lasting value, etc, bring the game down.
Gameplay: 4/5
If you're looking for some different variations of Angry Birds, this is a good free alternative. The gameplay is similar, but has its own unique challenges that make it worth checking out. The controls work well and the levels are usually well designed.
Presentation: 1/5
Unfortunately, the game crashes at level 2-14, and also has randomly crashed other times. In addition to that, it isn't even Mango multitasking enabled, and doesn't even resume your current progress in your level! The music and sound effects are good, but with these major issues, the presentation falls apart.
Lasting Value: 2/5
You'll only get 20 or 30 minutes of gameplay from this. That's extremely short. There is some incentive to replay levels and get higher scores, but the fact that the app crashes at level 2-14 may deter you from playing any more. The game definitely needs more levels if it wants to compete with other Windows Phone games.
Title: Pandas vs Ninjas Christmas
Price: FREE
Publisher: XIMAD INC