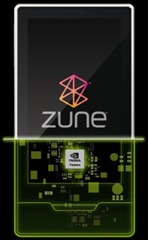 The ZuneHD is a pretty locked down device, with development only possible using the XNA framework. This means no access for 3rd party apps to the 3D graphics accelerator, no internet access and slow software.
No longer however, as residents of the ZuneBoards have released a hack that allows applications to escape from the Zune sandbox and run directly in the Win CE framework.
The OpenZDK has just been released, which should soon see a wide range of hobbyist software being released. The hack will allow developers to use the  full power of the Tegra APX2600 using custom vertex and fragment shaders with OpenGL ES 2.0, programmed using lightning fast C++ and without the arbitrary limitations of XNA.
The hack brings hope to future Windows Phone 7 users, which are subject to similar arbitrary limitations designed to improve performance and reliability but which significantly bound user freedoms.
Interested developers can read more here.
Via Engadget.com