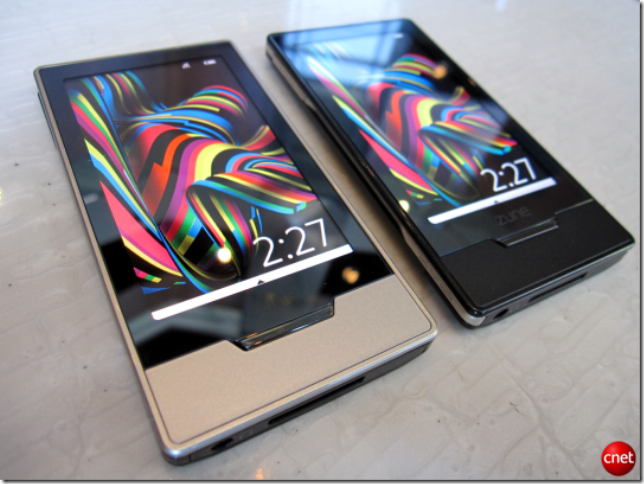 CNET correspondent Donald Bell has had an hour long hands-on with the the ZuneHD, and has come away pretty impressed.
He says:
The Zune HD feels expensive, solid, and sexy. The metal enclosure is a little more angular than the curvy chrome of the iPod Touch, but feels just as nice and has the advantage of laying flat instead of teetering around. The body is just a little thicker than the iPod Touch, and not nearly as wide
While we're talking output specs, here's something else to note. The Zune HD supports 720p video content, which you'll be able to purchase directly though the Zune Marketplace software. Video content purchased (or rented) through your Xbox can also be downloaded and transferred to your Zune by checking for them in your Zune Marketplace purchase history.
Some other cool stuff happening on the music front: recently added tracks are now grouped together a little more prominently using a more visual music submenu, along with a new feature called pins, where frequently accessed content can be bookmarked.
Speaking of Wi-Fi, the Zune's new Web browser smokes. Not since first using the iPhone have I been this impressed with a mobile Web browser. There's no branding on the browser, but I was told it was cooked up by Microsoft's Internet Explorer team (makes sense). Page load was snappy, and pinching and reorienting pages work just like the iPhone and iPod Touch. You also get a fast onscreen keyboard with a nice little magnifier effect with each keystroke. The only bad news on the browser is that there's no support for Flash audio and video content. So Pandora and YouTube are out, but I was able to get onto Facebook and Twitter.
Its the last paragraph which is most promising for Windows Mobile users, and gives us an idea of what to expect when we run the next version of our OS on the latest processors available.
Read the full review here.
Via Engadget.com
Thanks Cybermaster for the tip.