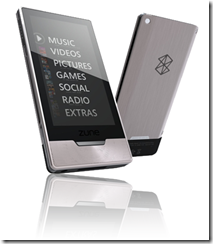 Microsoft is launching the Zune video service on the Xbox 360 in 18 countries in the next few days, including in US, UK, France, Germany and Australia.
The service will allow users to stream video instantly from studios like MGM, Paramount and Universal.
The expansion could however be a prelude to more to come.
Christine Heckart, general manager for TV, video and music marketing at Microsoft, said the company wanted to put Zune on "three screens" – PC, mobile phone and television – where Xbox and Windows already have a large number of customers.
"The strategy and vision of Zune is to continue to build out that full entertainment experience," Ms Heckart said. "This is a very important step for us to introduce Zune to new consumers around the world."
With the television taken care of via the Xbox 360, its only the PC and Mobile versions that are missing. Hopefully we will not have to wait all the way till Windows Mobile 7 for a taste of the software on our phones.
Via FT.com