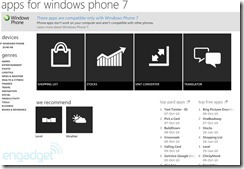 The desktop Zune software is set to play a central role in management of Windows Phone 7 phones. Prior to the worldwide launch today the software has now been updated to version 4.7, with users getting the prompt to download the latest version for early this morning.
The software so far provides access to 86 applications, according to Engadget, which can be loaded on up to 5 devices sharing the same Live ID.
Of note is that the software now also allows users in non-US countries to access the marketplace for music also, which of course finally provides a desktop alternative for purchasing music in many countries.
Via Engadget.com
Thanks dropqube for the tip.