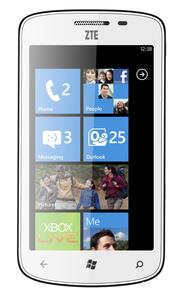 WPDang reports that the ZTE Tania, currently on release in Europe and also apparently heading to USA, will also soon make its way back to China.
The handset, rebranded "ZTE V960W", is expected to cost around 1,250 CNY (198 USD), competing directly with the Nokia Lumia 610, which costs 1,600 CNY.
ZTE also has another Windows Phone in China, the ZTE Orbit, which features NFC.  WPDang speculates that this handset may get a RAM cut to the low-end Tango spec of 256 MB to cut costs and make it more price competitive.
China has recently overtaken USA as the largest smartphone market, but remains extremely price sensitive, meaning if Windows Phone is to win any significant market share there it remains very important to compete on the low end.
Via WPSauce.com