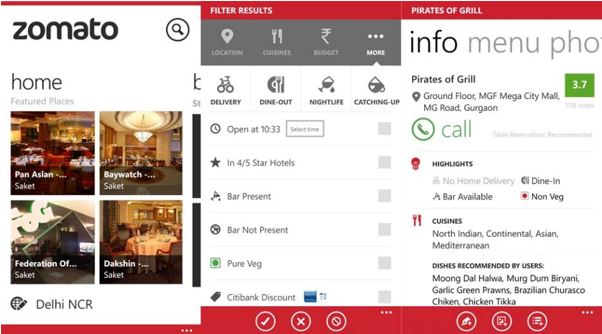 Zomato restaurant guide app for Windows Phone devices got recently redesigned with great UI.  This Zomato app gives you restaurant recommendations around you and lets you look at menus, pictures and maps for 120,000 restaurants in India, United Kingdom, Philippines, South Africa, New Zealand and Sri Lanka.
What's New in Version 3.0:
First things first, this new version will make the last one look like 1990's.

The new Zomato, will make your search for food easier and faster than ever. Here's what is new:

– Everything has changed – we're sorry you will have to relearn how to use Zomato, but you will love it!
– Our popular mood based restaurant recommendation are now on mobile.
– One-tap access to restaurants near you, sorted by distance.
– Dish Searches! Yes, just search for the dish you are craving and we will take you right where you need to be.
– Now upload pictures for your favorite restaurant and share with the world – perfect for those who don't have the patience and skills [:)] to write reviews.
– Our location detection will not test your patience anymore – well, hopefully…
– And hundreds of other changes.
Download it here from Windows Phone Store for free.