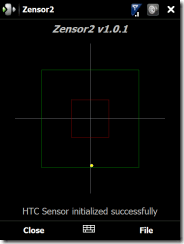 Zensor 2 is an application for automatically rotating your screen using HTC Touch Pro / HTC Touch Diamond's GSensor.
Unlike most other applications, Zensor is written to only detect firm moves, skipping moves done by your mobile moving in your pocket or when walking.
In order to change orientation, first make sure you keep your HTC phone in a horizontal position (face up) and firmly move it to either landscape or portrait mode, to force a change.
In order to make Zensor learn a new application (and whether to rotate it or not), simply move the device firmly from a face up position to an upside down position.
This application is only designed to work with HTC devices with accelerometers.
Download the freeware from Endorser here or download directly using this tinyurl in your mobile browser: tinyurl.com/zensor2