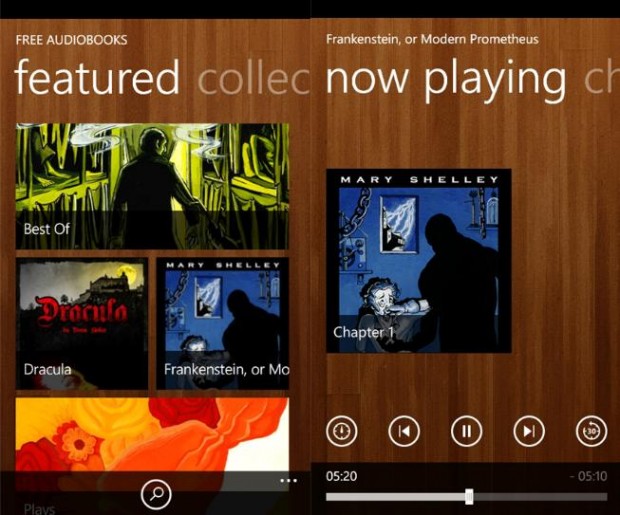 If you are an audiobook fan, then this app is a must have for you. Free Audiobooks for Windows Phone allows you to  download any one of 4,728 classic audiobooks, and listen with the in-built fully featured audiobook player.
The app features,
* Audiobooks. Free Audiobooks! The plays of Shakespeare, the letters of leaders, the autobiographies of Franklin and Teddy Roosevelt, the collected works of geniuses, the philosophy of Seneca and Plato. It's all here, along with thousands and thousands of other audiobooks.

* A Perfect Audiobook Player. It's beautiful, fast, and fully featured. Background listening, 30 second rewind, chapter listings, and more!

* Handpicked Collections. Mystery, Theology, Epic Epics, Poetry, Philosophy, Children's, War… the list goes on. We have 36 hand picked collections to make finding great books a cinch.

* Magic Downloading. Find something you like. Tap Download. We'll immediately download the first chapter, and a few chapters ahead. Finish a chapter? We'll download another. We're sure to always download three chapters ahead- that way you'll never be without something to listen to.

* Road Trip Ready. Going on a road trip or flight? Just tap 'Download All' and we'll download the whole audiobook in one go.

* Original Covers. We make public domain books come alive with absolutely beautiful covers.
The app costs $1.99 and the audiobooks you download within the app are free. Download the free app here from the marketplace.
via: mobility digest