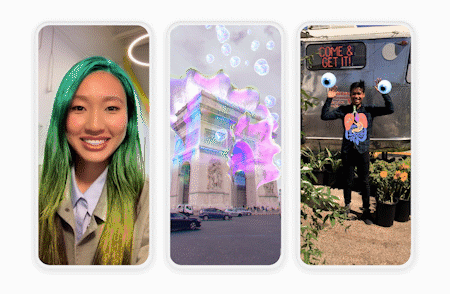 At Snap Partner Summit 2019, Snap announced the updated Lens Studio app with all-new templates and ways to create. A new Lens template called Landmarkers allows creators to build Lenses that can transform iconic landmarks in real-time. Snap has also announced new templates for hand-tracking, body-tracking, and more. Yesterday, Snap announced the release of Lens Studio 2.1 that makes it even easier to create AR filters. Snap is introducing new interactive tour that will guide you through Lens creation process step-by-step. Even if you are new to AR Lens creation process, you can jump right in. Snap has also added start-screen content that offers helpful tips and updates.
Snap also announced the following new templates:
Skeletal: No bones about it, it's here! Track 2D images to necks, shoulders, and elbows to create sweet joint collabs!
Face In Video: Track that pretty face onto a video!
Hair Color : New hair who dis? Switch things up with fresh tones from root and tip!
Makeup : Put your face on the easy way with AR lip gloss, blush, eyeshadow and more.
Countdown: Ready, set, customize! Create Lenses that count down to specific dates and add celebratory 3D hats and glasses.
Portrait Particles : Jazz things up with customized particles that segment behind the user's head – Decorate with headers, footers, and post-effects.
Landmarkers, ahoy! : New Landmarkers are popping up all over the world. Experiment with new locations like the Gateway of India and the Leaning Tower of Pisa.
Source: Snap