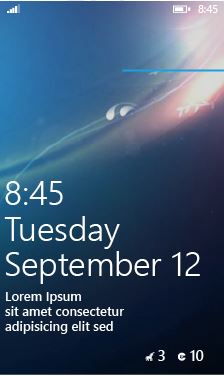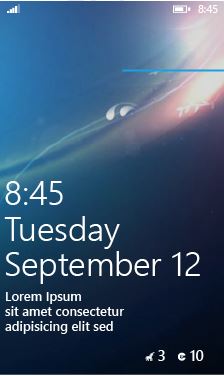 With Windows Phone 8 launch around the corner, it's time to know about some upcoming features in Windows Phone 8. We earlier reported that Windows Phone 8 will allow users to choose Bing as their Lock Screen background provider, but now its has been confirmed that any developer can write an app that provides similar functionality. For example, you can subscribe to NatGeo photos that will automatically change lockscreen background after a period of time.
Also the whole notifications area in the lockscreen in available for the developers. Apps can have their icon, a counter and a text on the lockscreen.
The lock screen's app icon, count, and text are pulled directly from the app's primary tile – the secondary tile does not have an impact on this feature. Information is only displayed in the lock screen if the tile contains the information – for example, a count will only display on the lock screen if the tile displays it.
As a result, the whole lockscreen can be personalized by a user based on his needs! Pretty neat.