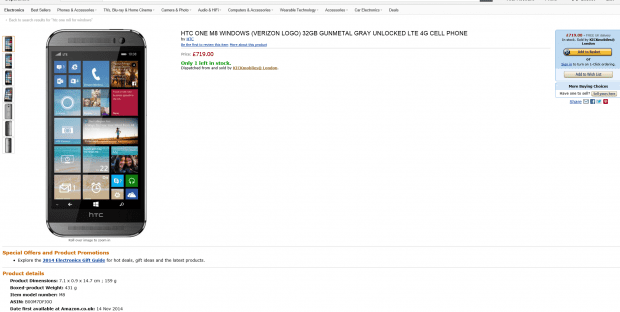 The HTC One M8 for Windows is a fantastic device with two killer limitations. The camera and the availability. Now while manby people can get used to a lower quality camera, not being able to get the phone is an incredibly unsurmountable barrier.
Fortunately, for those in the UK, someone is selling the Verizon version of the HTC One for Windows. Unfortunately, aside from there being only one for sale at the time of this writing, the price may also be a bit too much for most at £719. Keep in mind hat there may be no 4G LTE as Verizon uses different bands from UK carriers. For those still undeterred by both the price and the lack of LTE, grab it at the source link below.
From the product description:
HTC ONE M8 WINDOWS (VERIZON LOGO) 32GB GUNMETAL GRAY UNLOCKED LTE 4G CELL PHONE

COMPATIBLE TO USE WITH NETWORK SIM CARDS THAT WORKS ON
2G : GSM 850/900/1800/1900 and/or
3G : 850 (B5) / 900 (B8) / 1900 (B2) / 2100 (B1) and/or
4G : LTE 700(B13)/ 800(B20)/ 1700(B4)/ 1900(B2)
IMPORTANT : PLEASE CHECK WITH YOUR NETWORK PROVIDER THE COMPATIBILITY BEFORE YOU BUY.
Source: Amazon