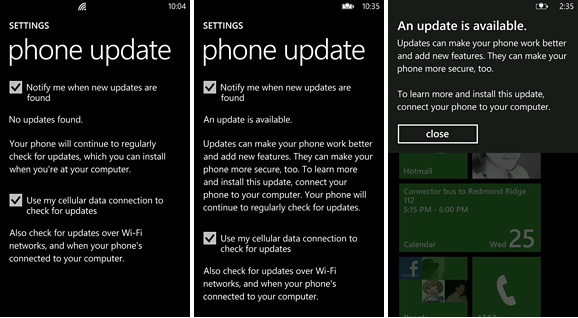 Many have speculated as to what tempo of releases for Windows Phone we can expect from Microsoft.
This job posting uncovered by esphoneblog.com appear to confirm a yearly one, with minor updates in between.
Job Category: Software Engineering: Program Management
Location: United States, WA, Tukwila
Job ID: 753226
Product: Windows Phone
Division: Windows Phone Division
There has never been a more thrilling time for the Windows Phone team! Windows Phone 7 launched and is building momentum in the market. Do you want to be part of driving the next big business for the company? If you believe Windows Phone is a critical area of investment for Microsoft and if you have a passion for creating compelling mobile user experiences then come join the Windows Phone Customer Experience Engineering team (CXE) and help shape the future of mobile. We are passionate about delivering world-class products to our users and partners. We aren't just building a me-too iPhone or Android competitor; we're changing the way customers use and experience their device. The Application Platform team is building the new development framework for Windows Phone applications, responsible for defining the application model and delivering the application manager, execution framework, integration with the OS, notifications, data services, integration with cloud services and delivering the ecosystem for supporting mobile application developers.
This Senior Program Manager position will be the CXE Feature PM that drives all development work on the Application Platform for update releases between major yearly releases. You will work closely with the Application Platform team who is working on major yearly releases and with the best technologies/teams across the company (e.g. Silverlight, XNA, .NET Compact Framework). We believe leveraging our partners, combined with building phone specific technologies within our own engineering team, results in leveraging the best technology from Microsoft for our developers.
This role requires significant cross-team and cross-division collaboration. You will be asked to provide strategic direction for the team in numerous areas based on your research into key areas of interest. You will write functional specifications using customer feedback and scenario based engineering principles. You will create schedules that clearly delineate what we commit to. On a daily basis, you will be responsible for the ongoing coordination of requirements and action items, as well as providing status on progress and deliverables. In addition, you'll be driving the research and resolution of issues as they arrive, and be seen as the person who knows how to drive decisions and resolution to closure.
The ideal candidate will have:
Proven track record of senior technical leadership in the design, specification, and delivery of a major successful large scale product
10+ years of technology experience with 3-5+ years in a senior technical program manager role, including managing schedules and writing functional specifications
Ability to partner across test, development, and program management to accomplish business and engineering goals
Proven track record of establishing and maintaining strong cross-team working relationships and collaboration
Excellent written and verbal communication skills
Customer and partner interface experience
Strong technical understanding and the drive to learn
Details oriented and results driven
Demonstrated a passion, excellence, and leadership in project management
BS in Computer Science (or related field) required, MS in Computer Science (or related field) preferred
Preferred:
o Experience working directly with the developer community and with developer community outreach
o Experience designing and/or building software products for the mobile space
o Experience designing and/or building Internet scale web services
o Experience shipping software development kits

WPEJOBS; WPEC
tri.CXE
MCB.WPE.LC
Do our readers feel this is fast enough to keep up with Google? Let us know below.