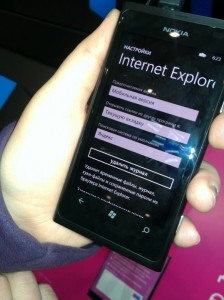 Sources report that  smartphones running Windows Phone 8 will have applications from the Russian company "Yandex" integrated in the system.  This integration will only be included in phones being sold in Russia.
At present Yandex Apps, of which at least 6 apps are in Marketplace, such as Search, Maps, Metro, Market, Money, are only  available for separate download at the Windows Phone Store (Marketplace), although Russian phones do have the option of setting Yandex as their default search engine. (picture right)
Currently in Russia the Search button opens up a tab in Internet Explorer and loads the Yandex page, but in Windows Phone 8 there will be a seperate Yandex Search App.
The reason for the move is the low quality of search results by Microsoft Bing in the Russian market. Our Russian readers may be able to attest to this themselves.
Representatives of "Yandex" and Microsoft have officially declined to comment, according to Izvestia.
Below is a comment on these rumors from Mforum analyst Alexei Boiko:
The "Yandex" has a program for partners that are pre-assigned to search services on their devices, according to the program "Yandex" shares with them a profit. However, given the inability of search and Microsoft Bing maps for the Russian market, it is unlikely Microsoft or producers want to "Yandex" money. There is mutual interest here
Windows Phone 8 will be launched officially on  October 29th, and in early November the first smartphone running the operating system is expected to hit the market.
Via Winphonelive.ru