We have finally received a Sony Ericsson Xperia X1 to review, and we will be putting up short articles about the device over the next week or so.
When we last looked at the device it was at the Tent London launch, and the device had obviously been handled by hundreds of people. At the time my impression of its built quality was poor, but the device I received today has really changed my mind. The device is completely solid, with a high quality feel, and a firm but responsive slider. The keyboard looks jewel-like, rather than the more utilitarian business-like look of the Touch Pro.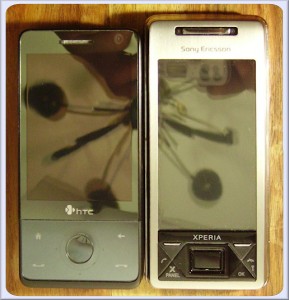 The recessed screen, which was a big concern to me then, may possibly be the least recessed screen ever, and at some angles look quite flush. Certainly from a cosmetic and aesthetic point of view it is not a concern at all. Of course from a functional point of view it may be another story.
Staying on the physical aspects of the device, when compared to the HTC Touch Pro it feels much smaller in the hand, likely due to the decreased thickness. Despite having a 3 inch screen, the screen actually looks smaller than the 2.8 inch one on the Touch Pro. In fact, in the width dimension it is. While the Xperia's screen is exactly 40mm wide, the Touch Pro is nearly 10% wider at 43 mm. Of course the Xperia screen at 67mm tall is much taller than the 57mm of the HTC Touch Pro. However since the phone will most often be used in portrait it does mean text often appear larger on the Touch Pro than the Xperia.
When it comes to hardware buttons, the Xperia has loads of them, especially compared to the Touch Pro. Some of them are however quite recessed, and the power button is especially small. Even more bizarrely, I actually prefer the much larger button cluster on the Touch Pro to the rather small and crowded collection on the Xperia.
The stylus of the Xperia is a long, slender affair, and appears rather cheap, especially when compared to the quality of the rest of the device. It is probably much more functional than the fancy but much too stumpy stylus of the Touch Pro.
If you are trying to chose between these two smartphones keep an eye on the site for more on how these two devices compare.
If you have any questions you would like answered please leave a comment below.
Both the Xperia X1 and HTC Touch Pro are available on Expansys (affiliate link).