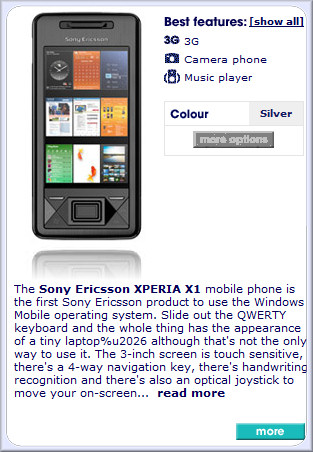 Continuing the confusing saga of the Xperia role-out, it appears the Sony Ericsson Xperia has popped up on the website of the Carphone Warehouse, a leading UK distributor which famously was involved in the distribution of the iPhone 3G in UK.
The phone is available from free on a £45 per month 18 month contract, only on the O2 network. It also includes an unlimited data plan capped at £1 per day for limited usage, which for a internet enabled device like the Xperia can work our rather expensively.
To make up for this, apparently the phone will be shipping with a free copy of the movie Hancock on a 4GB microSD card.
Edit: As one of our regular commenters alerted us, when you actually try and buy the phone is says it is out of stock. I would say a world-wide delay is more or less confirmed.
Read more at the Carphonewarehouse website here.