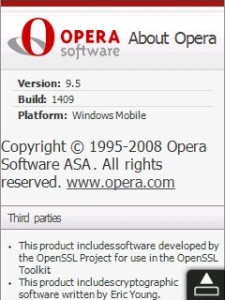 We all know Windows Mobile would be nowhere without the wonderful people at XDA-Develops.com. Keeping an eye on the latest developments over at XDA is key to keeping your WM phone on the bleeding edge, but plodding through 20 pages of new posts is only for the most dedicated. Thats why we do it for you, bringing the latest news from the wild west thats XDA-Developers.com.
The very latest version of the world-beating Opera Mobile browser has popped up on XDA-Developers. Build 1409 bring better landscape mode support allowing they keyboard to be used in full-screen mode.
The next one is just for experts. Ever wanted to bundle all your favourite registry hacks in one cab? Quickcab 1.0, developers at XDA-Developers, is freeware that makes it easy to do just that, and much else also. Get it here.
All links lead to the relevant posts at XDA-Developers.com. You may need to register to be able to download. We, like XDA-Developers, do not condone piracy.