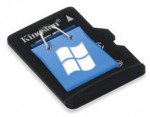 Marketplace has a number of annoying restrictions. One of them is forcing all applications, no matter what the size, to install to internal storange.
With the brainstorming help from a few good XDA Members, including Noonski and others, a method has been found to erase the switch that forces marketplace to install Aplications to the SD card.
The patched application now has Marketplace asking where to install the application, either to main memory or storage card.
The Cab is available to download and install to either storage or internal that will always ask where to install the marketplace app.
Download the cab from this XDA-Developers post here.