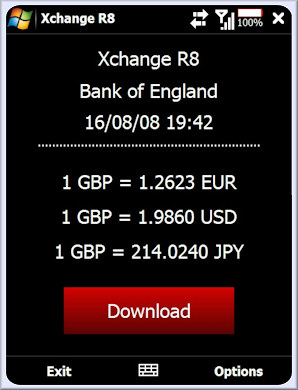 In these days of economic turmoil its useful to know what the current exchange rate is before going to change money for travel abroad, as it can change dramatically day by day.
Xchange R8 is a simple currency converter using live data from published by the central banks of the many countries. The software at present uses the Bank of England currency are accessed via the Export Technologies WebService and the Bank of Romania. You can chose to convert 3 currencies at a time, and the software also includes a calculator and exchange rate diary (only using the bank of Romania).
Download the free software from this XDA-Developers thread. It needs .Net CF version 3.5.