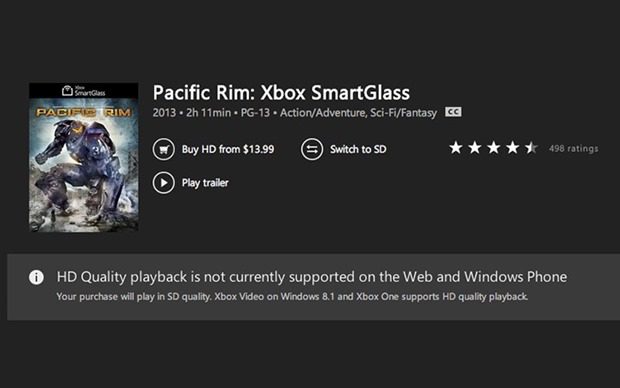 Today we are having some good news and some bad news about Xbox Video, Microsoft's video rental and purchase service for the Windows 8.1 and the Xbox.
Microsoft has just launched a web portal to the service, which makes the videos available without a PC client.  The good news is that the service confirms the Windows Phone app is near, meaning you will soon be able to download and play popular TV shows and movies directly from your handset.
The bad news, according to the warning message above, is that Windows Phone will only be able to playback video at SD resolution, which is around 640×480 pixels, a rather ridiculous resolution when Microsoft is selling a Windows Phone with an 1920×1080 resolution, and pretty detectable on a large screen such as the Nokia Lumia 1520.
Hopefully Microsoft will not doom all Windows Phones, including the most powerful, to a video solution with a resolution more at home in the 1990's than 2013.
Via Techradar.com