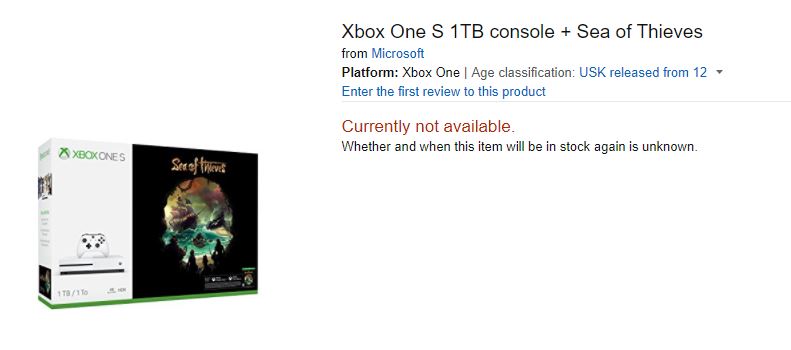 Microsoft's upcoming shared-world adventure Sea of Thieves appears to be getting an Xbox One S bundle according to a listing on Amazon. Though the listing has since been removed, images of the page have been saved.
Discovered by the ResetEra forums, the bundle includes a 1TB Xbox One S console, a controller, a digital version of Sea of Thieves, 1 month of Xbox Game Pass, and a 1-month Xbox Live Gold subscription. A price was not listed, however the last similar Xbox One S bundle to leak through Amazon—PlayerUnknown's Battlegrounds—was priced at $299.99.
In addition to the Xbox One S bundle, an Xbox One X Sea of Thieves bundle was also spotted on Amazon. This listing has also been removed by the website.
Going by the images posted on their store pages while they were up, it looks like the bundles just contain regular consoles, with no special designs similar to those on the game's limited edition controller and other accessories.
Despite the huge information dump today from the studio regarding Sea of Thieves, these consoles were not officially unveiled as of yet. A release date was not revealed on Amazon, however these bundles are likely to launch around the game's release date on March 20.