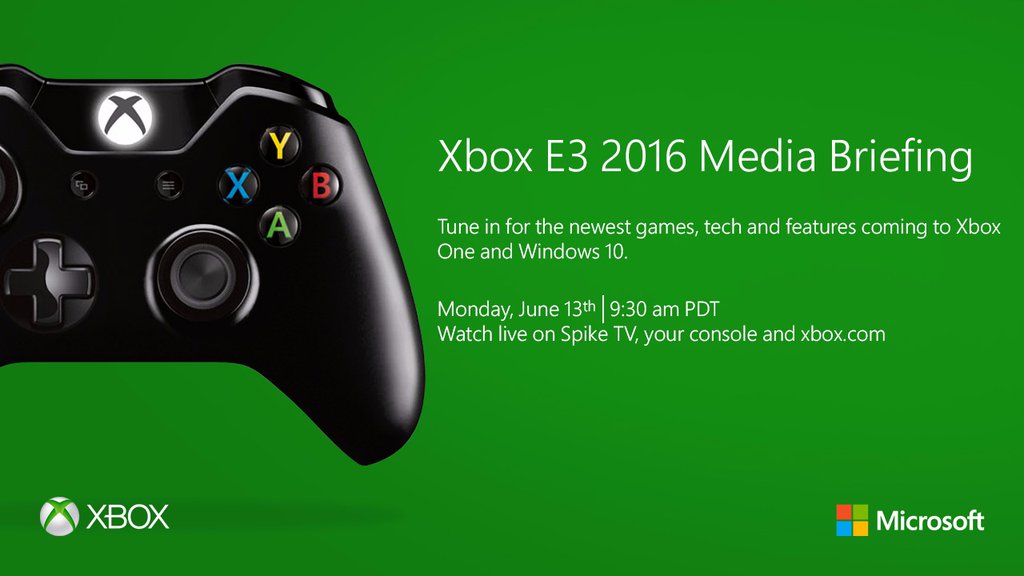 Microsoft today revealed that their Xbox E3 2016 Media Briefing will be happening on June 13th at 9:30AM PDT. Microsoft will be talking about the newest games, tech and features coming to Xbox One and Windows 10.
cp">You can watch the Xbox E3 2016 Briefing live beginning at 9:30 a.m. PDT on June 13 on Xbox.com, the Xbox Twitch Channel, via the Xbox Live Events Player on Xbox One and Xbox 360 consoles, or on the big screen at your local Microsoft store. You can also watch the Xbox E3 2016 Briefing on Spike TV in the U.S. and Canada at 9:30 a.m. PDT / 12:30 p.m. EDT. Tune in for amazing live content from Xbox.
Xbox E3 Briefing: Watch the Xbox E3 2016 Briefing live beginning at 9:30 am PDT on June 13th. Tune in to see what Xbox will announce this year at the biggest event in the industry.
Xbox Daily Show: Xbox Daily Show is back this year, live streaming breaking news, exclusive announcements, trailer reveals, game demos, and interviews with game creators June 14th and 15th.
Xbox on Twitch: Xbox is partnering with Twitch to bring gaming fans wall-to-wall coverage of the entire week of E3: go behind the scenes, hear announcements and watch the best Xbox games in real-time.