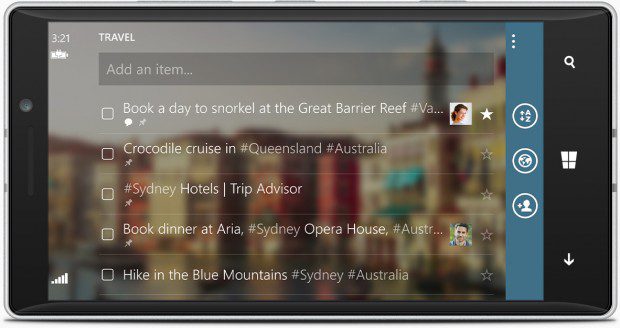 Wunderlist is an fantastic cross-platform to do list ap. It's an industry standard app used by  many and the Windows Phone app has been well-supported by the company very well since it was launched.
Today, the app gains a slight visual refresh in an update to match the wireframe styling of Windows 10 and several other tweaks to performance.
Features wise? There were no new features. How do we know? Because the changelog says so.
From the changelog –
We know what you're thinking as you read this. You're thinking, is today my lucky day? Will there be a new feature that will blow my mind? Well, no… not quite. But don't stop reading just yet because there are a couple of new features and some very exciting bug fixes in this update. Very exciting.

– We have a new logo! But before you start looking in panic for the new Wunderlist logo, clutching on to your colleague's arm and shouting 'Where has my Wunderlist gone??', don't worry, you'll still recognize it – we've just made a few tweaks.
– Talking of tweaks, our pictograms are now looking more lightweight and ever so stylish.
– We've made a few changes to our live tiles so that they'll now update at lightning fast speed as soon as you add something to your list.
– We're always sad to see you leave our app but that's no excuse for throwing a tantrum. We've given ourselves a stern talking to and we'd like to apologise for crashing when you leave the app or when you return. We've fixed this little issue and would like to think it won't happen again.
– As usual, we've squashed a few other minor bugs.

Enjoy!
While quite long, it certainly beats seems faster in creativity and gave us a bit of a laugh.
Download Wunderlist from the Windows Phone store here!