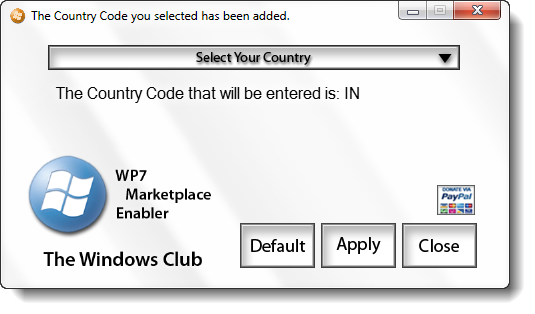 The Windows Club have released a handy utility to help users in countries like India, where HTC sells Windows Phone 7 devices, but Microsoft does not sell applications, a dire situation for Windows Phone 7, where side-loading is not allowed.
Marketplace Enabler makes some registry changes which tricks the desktop Zune software in thinking the PC is in another country, enabling Marketplace and allowing app purchases, and then loading the app onto the phone.  The software has to be run each and every time before the phone is connected to the PC.
The software of course raises the question of why Microsoft allows Windows Phone 7 devices to be sold in areas not supported by Marketplace, but at least this software provides a solution in part.
Read more about the software and further at theWindowsClub.com
Via 1800pocketpc.com and MobilityDigest.com