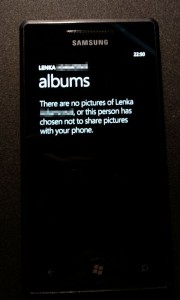 We have had complains from readers that the Facebook feed in the People hub has not been working properly, missing updates from users and at other times being told they do not have permission to view pictures which they have been allowed to view on the desktop and Facebook app.
It turns out the explanation is simple, but pretty difficult to fix.
Microsoft said in this support thread:
"Facebook considers Windows Phone to be a third-party app, rather than an official Facebook app. This means Windows Phone only has access to information that is shared with apps and websites.

Each individual has control over what they share (Account > Privacy Settings > Apps and Websites: Edit your settings > Info accessible through your friends: Edit settings). If someone disables "My status updates," their friends will be not be able to see the updates in third-party apps. They will, however, show up on the Facebook website and in official Facebook-branded apps. Turning off platform apps entirely makes the user's whole Facebook profile disappear from Windows Phone.

This can be very annoying, but people should be able to control what they share. The ideal solution would be for Facebook to make Windows Phone an official app. Until that happens, updates from some friends may not appear in the People Hub."
So unless Microsoft can twist Facebook's arm or users set their privacy settings to be a lot laxer, the People hub will be limited to what it can do, and users will still need to check the official FB app.
Good thing Microsoft owns at least a bit of Facebook, isn't it…
Via WPCentral.com
Thanks Koki for the tip.