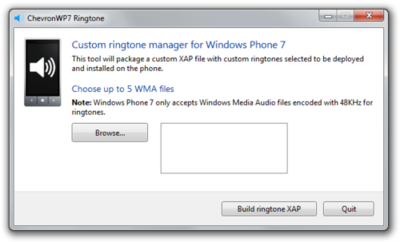 A bit backwards, after the ChevronWP7 tool has been pulled, the team have also made available their custom ring tone app for Windows Phone 7, which consists of a desktop loader and an on-device XAP.
Ring tones can only be 48 Khz WMA files, and the tool can load 5 at present.
Elsewhere a developer has created a dll which brings full socket support to Windows Phone 7, including the planned ability to support web servers on the device itself.
Unless you have the unlock tool squirrelled away, one would need an official developer unlocked device (often free to students, and $99 for everyone else) to gain access to these examples of home-brew software.
Read about the Ring tone manager here, and the sockets here.