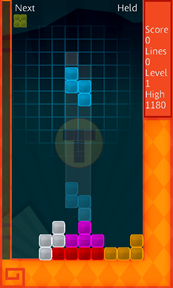 Mario Karagiannis, developer of a Tetris clone Tetrada, has been forced to remove his game from the Windows phone 7 marketplace after receiving a take-down notice from the Tetris Company, the rights holder for the original Tetris game.
Tetrada stands accused over trademark infringement, despite, according to Mario, the word Tetris never appears in the game.
He writes:
Here I would like to state that I have never used the Tetris Logo in my game and the game name, Tetrada, is a greek word that means "four of a kind". The game was a puzzle game using tetrominoes pieces, in a way that, according to my knowledge, has no patent. Also in my knowledge, the Tetris knowledge only holds a copyright on the Tetris name, which I never used and the Tetris Logo which I never used either.
As a student or lone developer however he does not have the resources to challenge the claim from the Tetris company.
The issue is of particular concern on the Windows Phone 7 platform, which due to the still small size of the installed base often miss out on games which are very popular on other platforms, such as Doodle Jump or Angry Birds, with many variations by small developers popular on Windows Phone 7.