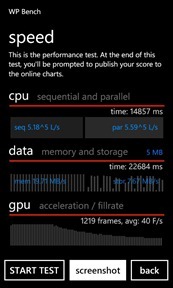 WP Bench has just been updated to version 2.5 and added much demanded feature with the "screenshot" button. User can take a run of the performance test or battery test, and then save the screenshot of the results page as a picture to the Pictures Hub.
It's great feature for comparing and presenting results from different devices, as the overall numbered result isn't reflecting for example stable data read/write speed vs. "laggy" one.
Users can share the screenshot picture via any social network, or email etc.
If you want to download the new, improved and now completely secure WP Bench, which costs £0.99 with a free trial, it can be found in Marketplace here.