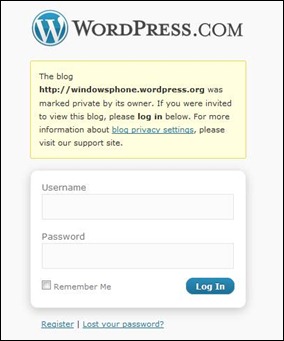 It looks like WordPress may be working on an app for Windows Phone 7. This will be a boon for millions of bloggers whose sites are run on the platform because they will now have a way to write, edit and post their content on the go. The guys at theblogherald discovered that
Users visiting windowsphone.wordpress.org will be greeted by a protected blog screen which requires users to type in a special password in order to view the contents of the site.

This follows a similar pattern when WordPress was working on their Android app, which could signal Automattic's plans on strengthening WordPress's mobile dominance by courting Windows Phone 7 before rivals have a chance to launch an official app upon the platform.
I cant wait to see how they utilize the Metro UI to make the app unique from the other platforms and since our blog uses WordPress, it will be an app that I will most likely have on my device.
Source theblogherald via @WinObs