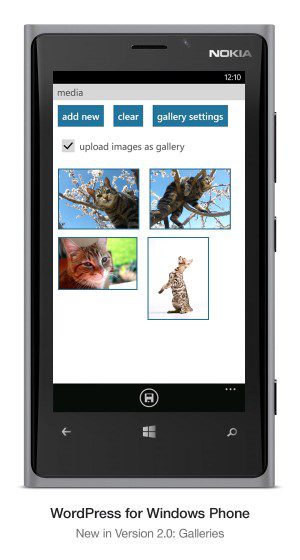 WordPress app for Windows Phone just got updated to v2.2 with new features and improvements. This v2.2 update adds support for gallery for self-hosted sites and also some improvements for WordPress.com push notifications, as well as fixes for crashes and other bugs.
It introduces gallery support for self-hosted sites running WordPress 3.5 or higher. It also resolves many of the outstanding issues and quirks that you have mentioned on the forums and on Twitter.

Galleries are a great way to share pictures with your friends and followers. An image gallery will display thumbnails for all images attached to a particular post or page. Readers can tap or click any image to launch the gallery full-screen, displaying huge versions of your images.

You can create a gallery straight from your device by attaching two or more pictures to a post or a page. You can even customize the appearance of a gallery by tapping the "gallery settings" button and choosing the best options for your site.

You have great control over how the gallery will be displayed: as a thumbnail grid, or as a slideshow. Both gallery types offer a lot of options to choose, not limited to: random order, page or file attachment.
Download it here from Windows Phone Store for free.