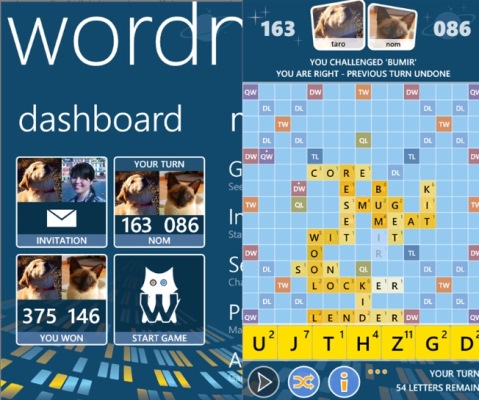 If you are a fan of multiplayer online word games, this one is for you. Wordnom is one such game with support for web-based gameplay. So all the participants in the game are not required to own a Windows Phone device. Check out the full description below.
Game Description:
Wordnom is a multiplayer, online word game based on the classic board game that people of all ages have come to know and love. Invite your Facebook friends or let us match you with an opponent. A web-based version means no Windows Phone is required for your friends to play. You can also play on the go from your Windows Phone, and then pick-up where you left off from your PC at home. The TrueSkill ranking system tracks your skill level relative to other players. The word challenge feature adds a dimension of fun and skill by leaving it to your opponent to determine if your word is good or bad, but your challenger is penalized if your word is good. The board leveling feature encourages players to use all of the board by adding new bonus tiles in lightly used areas if they start to develop. If you prefer, you can choose to play with word challenge and board leveling disabled. An interactive history lets you review all of the moves for the game, including voting on words as good or bad for challenge entries to help us improve if we get it wrong. Push and background notifications improve your gaming experience but are not required for play. Live tile support lets you see at a glance how many moves are waiting on you, and the dashboard feature lets you see your most recent activity at a glance.
The game costs $2.99 with free trial available. You can find it here from the marketplace.
via: Mobility Digest