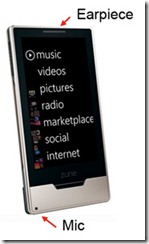 Feeling a bit left out, Jefferies analyst Katherine Egbert also felt the need to add to the Windows Mobile rumour mill, which has been very hot recently, with their own bold prediction.
Citing "industry checks" (or is that blog posts?)  she claims a Microsoft branded handset, in the same vein as the Google Nexus One, is set to be released by Microsoft in the next 2 months, either at Mobile World Congress in February or CTIA in March.
Apparently the Zune-like phone will run Windows Mobile 7 with an interface similar to to the ZuneHD UI, will be crated in partnership with a few OEM's and will have at least a 5 megapixel camera and be capable of 720p video.
Egbert ads that the OS will include a Zune video store and music subscription and purchasing services and social networking apps like Xbox Live, Facebook and Twitter.
Interestingly Techcrunch has also spoken about a similar device, which appears to be more dumb phone than smartphone, also set to be announced soon.
A developer has told them Microsoft is developing an OS based on the "ZuneHD kernel" with very strict hardware and software specs, from screen size to RAM size to processor speeds. The OS can not run any Windows Mobile applications, and can only be programmed for in Silverlight and .Net. No background are allowed, and no system resources can be accessed either.  The device will come with a Microsoft software store with an easy approval process.
The device will also come with XBox Live functionality for gaming and messaging, and there is no expectation that this will be a business device.  The UI will be like the ZuneHD, but with phone controls build-in.
Commentary:  To us it sounds like this may be one and the same device, but not Windows Mobile 7 as we expect it, but rather a branch like the ZuneHD is at present.  At the same time it also seems rather like a dead end, and we wish Microsoft would roll everything together in one OS and device, rather than force users to choose if they want an entertainment of business device.
Read more Barrons.com and MobileCrunch (via MSMobiles.com)
Follow us on twitter.com/wmpoweruser for the latest Windows Mobile 7 news and rumours.