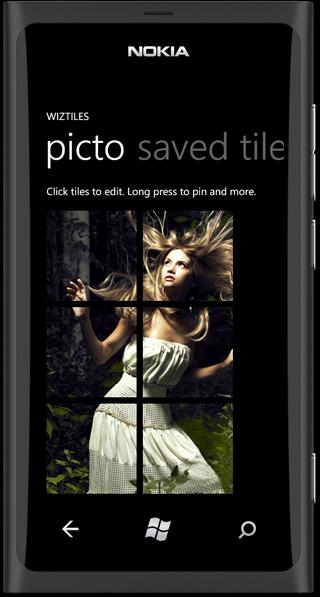 We already wrote about this app called WizTiles, which allows you to create any color, use any icon, any picture, and load your own themes to create shortcuts to basic phone applications. So far you have to create images for live tiles with PSD file, but now the developer has come up with a web app called WizTiles designer which allows you to create themes with few clicks.
The app is available in marketplace here and features the following,
1. Unlimited customization of tiles.

2. Color Picker enables you to make ANY colored tile.

3. Use icons or pictures from your picture gallery or the built-in themes.

4. Theme Support: Make your own themes and share with others. Download additional themes online.

5. Add tasks or shortcuts to any tile such as phone, camera, email, text messages, web browser, wifi, bluetooth, airplane mode, cellular, twitter, facebook, linkedin, windows live, search, directions, maps, marketplace and more.

6. Live Tile Support: Add text information on the back tile and it will flip to reveal more details.

7. Storage Support: All tiles that you create can be saved, so you can pin them on/off the home screen.

8. Application works great in both dark and light themes.
Check out WizTiles Designer here. Another great news is that the developer is already working on porting the WizTiles Designer features into WizTiles Windows Phone app. Try this out when you are free.