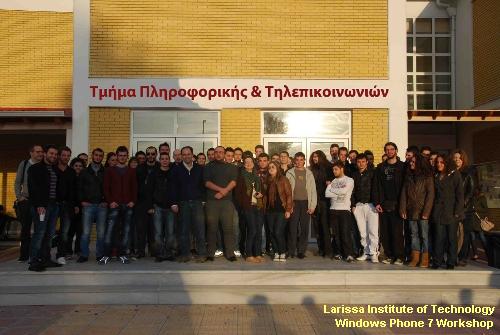 Earlier this year, all students of the Department of Computer Science and Telecommunications of Larissa Institute of Technology (TEI) in Greece, were invited to participate in Windows Phone App Contest to create an application for Windows Phone 7 platform. Sponsored by Microsoft Hellas and Nokia the competition proposed to intensify and accelerate the Windows Phone 7 programming and encourage students to express themselves and be as creative as possible with their ideas.
All the mobile app projects were reviewed by faculty members and leading professionals and the eight winners of the contest who were selected from among thirty eligible participants will now receive their prizes. Top two winners will be awarded with a new LUMIA 800, and the six runner ups with an HTC or LG windows phone 7 smartphone. Next week, the local .NET student community will be hosting a campus event where developers will present their applications and receive their new smartphones.
As a result of the increasing popularity of Windows Phone 7 platform, the postgraduate program MSc in Network Computing offered by the department, recently included Windows Phone programming on the main course structure.
All new apps are added to the Greek marketplace and can be found on the website: www.cs.teilar.gr/WP7