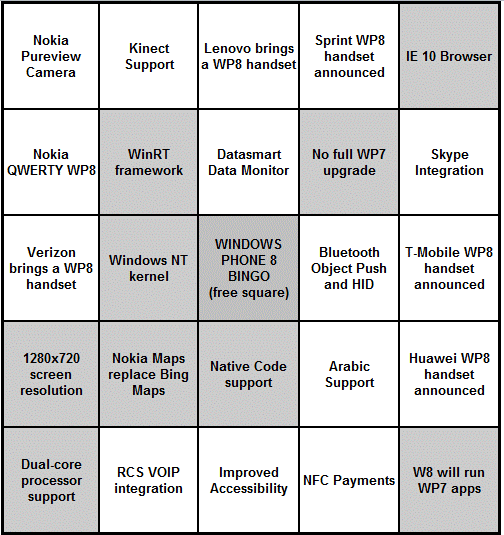 We had quite a few entries for our Windows Phone 8 Buzzword Bingo game, some who obviously did not understand the concept of the game.
Baltez is not however one of them, and he correctly submitted this card completing a full line of Windows Phone 8 features, and will receive $100 as soon as he gets back to us to collect his winnings.
The card also reminds us of some major features which are still missing.  We did not see any indication of new form factors for Windows Phone, and it seems that this may even (with the 640×480 resolution) have been dropped. Microsoft did not talk about accessibility of Windows Phone, or important parts like the back-up story.  In fact with the lack of WP7->WP8 continuity it seems we will all be losing our text messages, game progress and application data when we move to a new handset.
Of course there is still a lot more to be revealed by Microsoft, which may include answers to these important questions.
Is there anything very important that our readers found missing from yesterday's announcement? Let us know below.