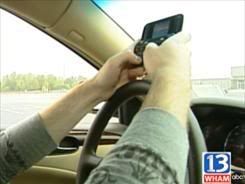 If you've been following the news lately, you'll notice a healthy amount of coverage from major network news outlet on the study from the Virginia Tech Transportation Institute.The study showed that truck drivers that texted while driving were 23 times more likely to get into an accident compared to non-texters.
Previous studies had also shown that texting is at least as dangerous as drunk driving and significantly more dangerous than talking on the phone while driving. Some even concluded that a person who is texting while driving is about eight times more likely to cause an accident, compared to a drunk driver with 0.08% blood alcohol percentage which is only about four times more likely to cause an accident than a sober driver.
Now, I don't know about the rest of the population here in mspoweruser.com. However, I found that texting with a windows mobile (PDA) phone while driving is something that's quite hard to perform. From my past experience with my old Himalaya (remember the days of Microsoft SIP?) to the days of HTC EzInput with its magnificent compact keyboard SIP, I still can't get myself to text as fluently as I had before with my old chunky Nokia phones. So texting while driving with my current HTC Fuze is pretty much out of the equation for me.
What about you? (How) Do you text on your windows mobile phone while driving? Please leave comments and share your personal "WinMo Texting Experience" below.