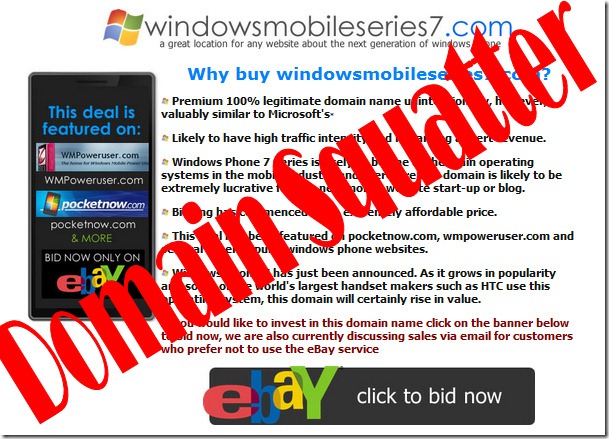 There has been a development on the story about the sale of an almost clone url of the Windows Phone website:
The eBay sale of www.windowsphoneseries7.com, a remarkably similar domain to Microsoft's own windows phone website www.windowsphone7series.com is ongoing today despite claims that it is illegal under cyber squatting law. The seller has, however, has made some last-minute adaptations to the website clarifying why it is legal, a move which may be seen as an attempt to stop Microsoft banning the sale or to persuade that first apprehensive bidder.
Cyber squatting defines that it is illegal under US law to register or use a domain name with bad-faith intent to profit from the goodwill of a trademark belonging to someone else, common examples including tricking consumers into thinking that it is the official website and trying to sell the website at a profit to the owner of the service, in this case Microsoft. However, the seller has responded claiming it is 'being sold due to other commitments' and that it 'would be a premium location for a blog or website'. It seems that proving it is illegal may be difficult and the sale may go ahead.
In the last couple of hours the site appears to have been updated and now describes the sale as '100% legitimate'. There is no explicit confirmation that Microsoft has been in touch, although this does appear to be the case with the design being changed, a link to Microsoft's official website being included to avoid confusion and a disclaimer displaying why it's legal.
Remarkably despite the unmistakable similarities to Microsoft's own domain name, which even forced some bloggers to question how legal it is, there are still no bids on eBay and it is now almost 24 hours since it was put online. The seller responded to an eBay message I sent saying 'I hope now that any customer's deterred by the legality of the sale will now be reassured'.
It will be interesting to see how this sale will pan out and whether the huge corporation Microsoft will ban the sale or if finally the seller will actually start getting bids.