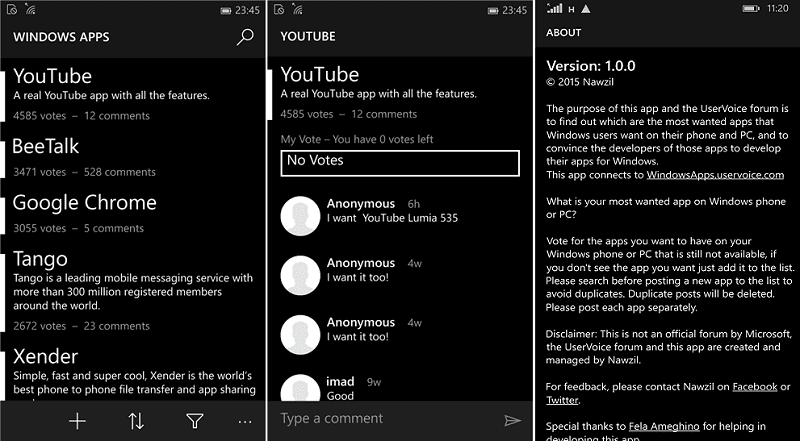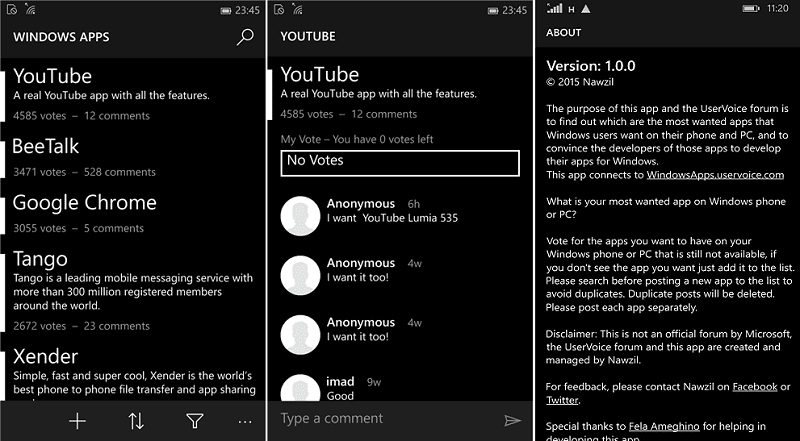 We recently wrote an article about how "Microsoft believes Windows 10 and Universal apps will close the app gap". Microsoft expects Windows 10 to bring more apps to the platform, but how many apps are missing from Windows right now? Is there a way to find out?
Yes, there's now.
There's a new app on the Windows Phone Store called "WindowsApps" that allows users to vote for the missing apps on the Windows Phone Store via a UserVoice forum. Here is the description of the app in Store:
"The purpose of this app and the UserVoice forum is to find out which are the most wanted apps that Windows users want on their phone and PC, and to convince the developers of those apps to develop their apps for Windows.
This app connects to WindowsApps.uservoice.com "
Nawzil, a supposed Microsoft employee created this UserVoice forum in December 2013 as WPapps.uservoice.com and changed it to WindowsApps.uservoice.com in May 2015 which now powers the WindowsApps app. And today he released this app which connects to the UserVoice forum without having to open the website on the browser.
One think I would like to point out is that this is the first third-party app that follows the Windows 10 app design guidelines. It looks exactly like a Windows 10 app, but it is actually a Windows Phone 8.1 app. The app was actually developed by the famous Windows developer Fela Ameghino.
You can get the app from the Windows Phone Store Here.