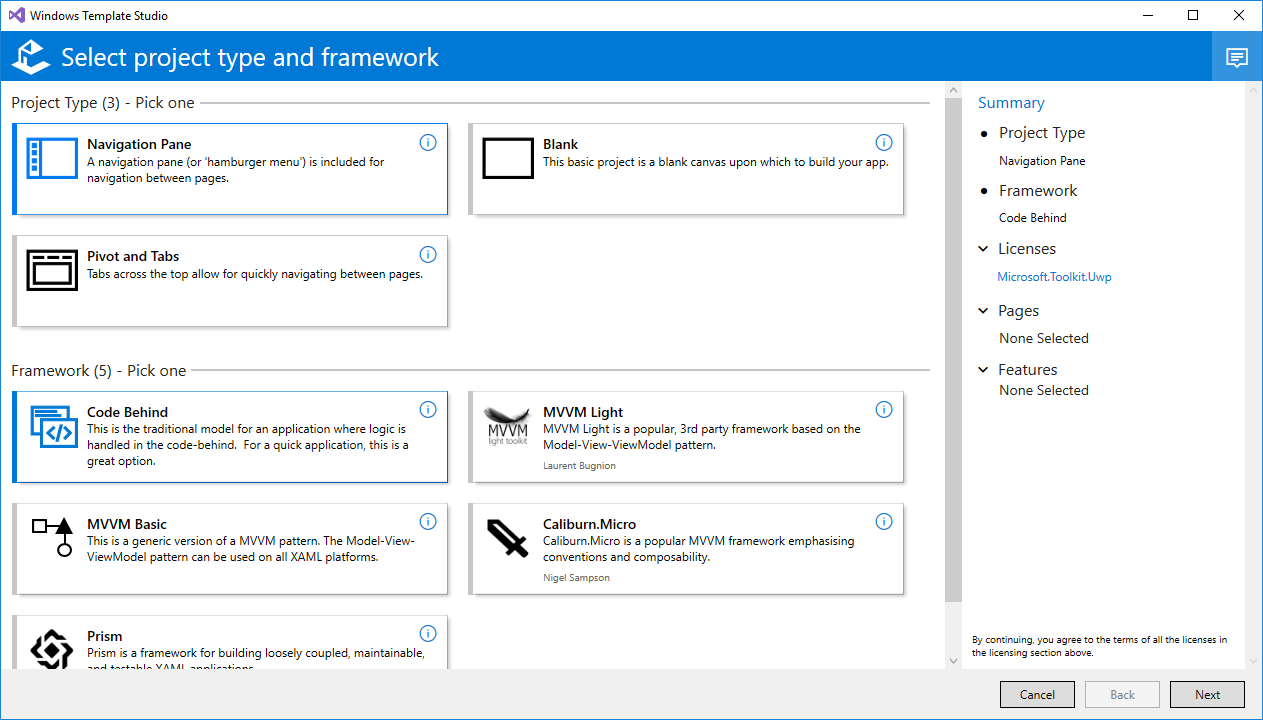 Microsoft today released the Windows Template Studio 1.7 with a number of improvements including new support for the poorly respected but popular Visual Basic programming language.
Windows Template Studio is an evolution of Windows App Studio which was an online app creation tool that allowed anyone to quickly build Windows Universal Apps. Windows Template Studio in Visual Studio will make it easier for developers to create new projects that target the Universal Windows Platform.
New in Windows Template Studio version 1.7 is:
New Programming Language Support:
New Framework Support:
Updated Feature:
URI Schema launching for Caliburn.Micro added.
Template improvements:
Tweaks for consistence across all frameworks and languages
Fix for bug where we have a toast and first time prompt crash.
Fix for JSON Helper (#1659)
Improvements to the Wizard:
Lots of under the hood bug fixes and code improvements
Changed how we handle verifying new templates. This process should be much faster now.
Improvements to Process and Tooling:
Improved unit testing for verifying templates
For the next version Microsoft is working on:
Improved user interface in-line with Visual Studio
Continued refinement with Fluent design in the templates
Work for supporting multiple projects in a single solution
Ink templates
Improved Right-click->add support for existing projects
Known issues of the current version include:
Microsoft is tracking an issue (#1532) when uninstalling / upgrading where you may get an error of "A value for 'Component' needs to be specified in the catalog."
Developers who have the Template Studio installed already should have it updated automatically, while if you are new you can find it at aka.ms/wtsinstall.
You can find it here on GitHub.