As  the Windows stores continue to grow towards the release of Windows 10, Microsoft has updated its recurring series on the Windows and Windows Phone stores for April 2015 with some new insights for developers.
Just like Ad duplex statistics show, Microsoft's own stats bear out the fact that low memory, low power devices are frequently accessing the Windows store. This breaks down to about 68 percent low memory devices to 32 percent high memory (1GB Ram and higher). As more and more high memory devices like the Lumia 540 and 640 begin to be released and roll out in the coming months we should expect this number to change. The lack of a current flagship likely also impacts on sales of the higher end devices as well, which Microsoft hopes to rectify by the end of September.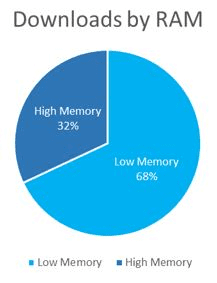 OS wise, the number there aren't quite surprising either, Windows 8.1 and Windows Phone 8.1 both command the majority of app store downloads with 93% and 80% respectively. This means that app developers can make their apps universal and reach 86.5 percent of the Windows 8 family, not a small number by any means.
App download wise, while Microsoft has not yet shared numbers on the app store in a while, they have at least broken down which app categories give the strongest downloads. Games are the highest on both platforms and, Microsoft points out that developers can increase engagement here several times over by making their apps universal.
Other details are fairly intuitive, the US is the largest Windows Phone market with over 6 million users (this explains several US only features) with India and Brazil following afterwards. IAPs bring in the majorty of app revenue, a trend which plays out on other platforms as well, and  supporting multiple languages is the best way to increase your app monetization.
You can read the full report here by Microsoft.