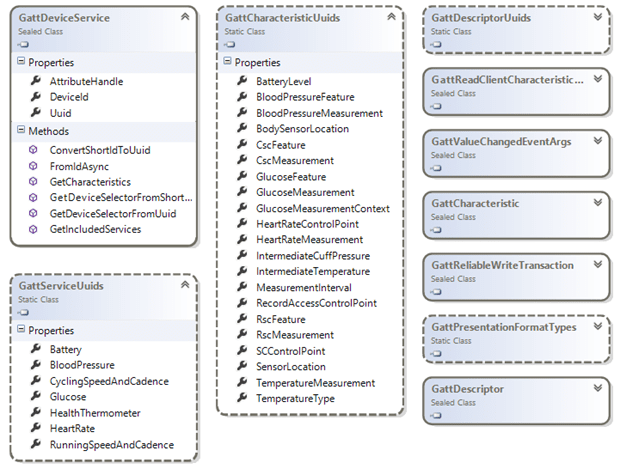 Justin Angel has been dissecting leaked images of Windows 8.1, including the RT version of the OS, which shares much communality with Windows Phone, and which in the next version of Windows Phone is expected to present a near identical API surface and environment to developers.
A Microsoft Job posting from February for example states the Windows Phone team is…
leading the charge to bring much of the WinRT API surface and the .NET Windows Store profile to the Phone.
There is therefore good reason to believe the new features of Windows RT will also be coming to Windows Phone Blue.
According to Justin Angel this will include support for Bluetooth 4, via RFComm and and Bluetooth Low Energy via the GATT profile.
Windows RT will then support a wide range of accessories, such as heart rate meters, blood glucose monitors, activity monitors and an increasing range of sensors.
Justin notes Windows RT will also soon support VPN, saying Microsoft is adding a whole new Windows.Networking.vpn namespace to help deal with VPN in WinRT apps.
Also welcome is a new API for Low Lag Cameras, which will enable developers to more easily capture HDR pictures.
Other useful APIs that will probably come to Windows Phone is a geofencing API, where apps can register to be activated when a user enters or leaves an area.  Apps will also now have access to writing Playlists on Windows , which would fill a massive hole in the anaemic media player on Windows Phone.
Another feature, which may be paired with Micracast support (evidence for which was found by some-one else) is the ability to send a different image to an external screen from what is displayed on the screen, allowing the many Airplay scenarios we already see on iOS.
Of course there is no guarantee all or any of these features will be coming to Windows Phone, but I think Justin's exploration has given us the best peek yet at Windows Phone's future.
Read much more at his website here.