Microsoft and Nokia's product placement takes us to a world where Windows Phones are the dominant smartphone platform, and in this case it is the world of German murder mystery "In the Devils Kitchen", where a father/daughter duo has to solve the crime of the day.
The leads, a forensic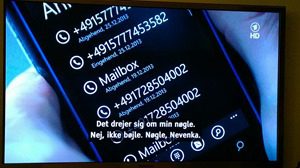 psychiatrist and his daughter, and virtually every other character, are all sporting and even flaunting Windows Phones, with the handsets getting quite a lot of air time, including 5 minutes of going through the phone's call history.
The intent of product placement such as this is to make viewers more familiar with owning a Windows Phone than they would be from their immediate circle and give them permission to be the first amongst their friends to purchase one.  Looking at recent German smartphone sales data is seems that is one mission accomplished.
Thanks Kristian for the tip and screen shots.