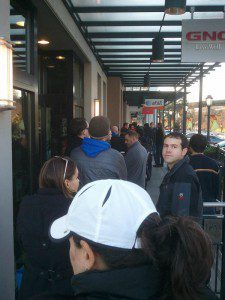 Yes, people will queue up for a Windows Phone after all.
Reader Jingesh sent in this picture to WPCentral of customers queuing up for a Windows Phone 8 handset on AT&T.
WIndows Phone Design also tweeted this picture from the AT&T store in Seattle.
AT&T is launching both the Nokia Lumia 920 and the HTC 8X today, and early reports is that supply is patchy, with some stores only having a single handset.
What have the experience been of our readers trying to get one of these super phones? Let us know below.