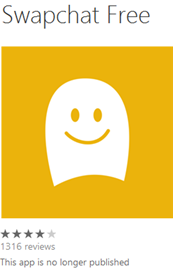 Hold on to your Swapchat installation folks, as it seems you will no longer be able to download the app from the Windows Phone Store.
SRC Apps have tweeted that they have been forced to remove the app from the Windows Phone Store due to a Copyright Complaint from Snapchat.
The listing for the app in the Windows Phone Store also now shows the app as no longer published and searching for it does not produce any results.
The app has been incredibly popular, with more than 1300 reviews for the free version.
As long as you do not uninstall the app or Snapchat does not change anything on their end the app will continue to work.
If there is any silver lining it may be that an official version is on the way, as SRC Apps alludes to by saying:
It is still however a very poor reward for our Windows Phone developers who have been working diligently to bring us access to the essential social apps when the actual owners of those networks have refused to serve our platform, one one wonders if they will continue to bother with this work when the rug can be pulled from under them any second.