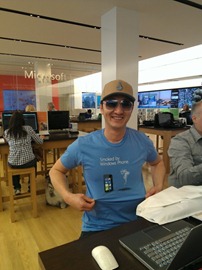 Ben the PC Guy is having fun taking the Smoked by Windows Phone challenge on the road, and yesterday at the South Coast Microsoft Store smoked 19 devices, including iPhone 4 and 4s's and a host of the latest Android devices like the Samsung Galaxy Skyrocket, Samsung Galaxy S II, Galaxy Nexus, LG Thrill, HTC Evo 4G, Motorola Atrix, Samsung Fascinate, and lost none of the challenges.
Today Ben is at Mission Viejo in California and will be there until 7 PM.
Some-one suggested Ben takes the show to Times Square, and to me that does not sound like a bad idea at all.
Read more at the Windows Team Blog here.